Posted by Leonard Shemtob on May 08, 2023
Animal Pak vs Opti-Men: The Ultimate Comparison of Multivitamin Supplements!
A multivitamin is a combination of many different vitamins that are usually found in foods, supplements, or other natural sources. Multivitamin supplements contain a variety of various vitamins and minerals that many may not be taken through diet.
Some people think that just having a balanced diet packed with whole foods and major nutrients is all you need and that you don't need any supplements. Well, this doesn't seem right, even if you are the healthiest of people.
Multivitamins can help you fill the nutrient gap, reduce nutrient deficiencies, boost your immune system, increase energy, promote your bone health, enhance your performance, and support your athletic needs.
There are numerous multivitamin supplements available on the market. However, in this article, we have chosen the top two of the most effective supplements that can genuinely help you support your fitness journey.
In this blog article, we will explore a comprehensive comparison and detailed discussion of Animal Pak and Opti-Men as well as some other multivitamins. We will discuss their benefits, ingredients, and how they can help improve your energy, endurance, performance, and recovery.
Opti-Men by Optimum Nutrition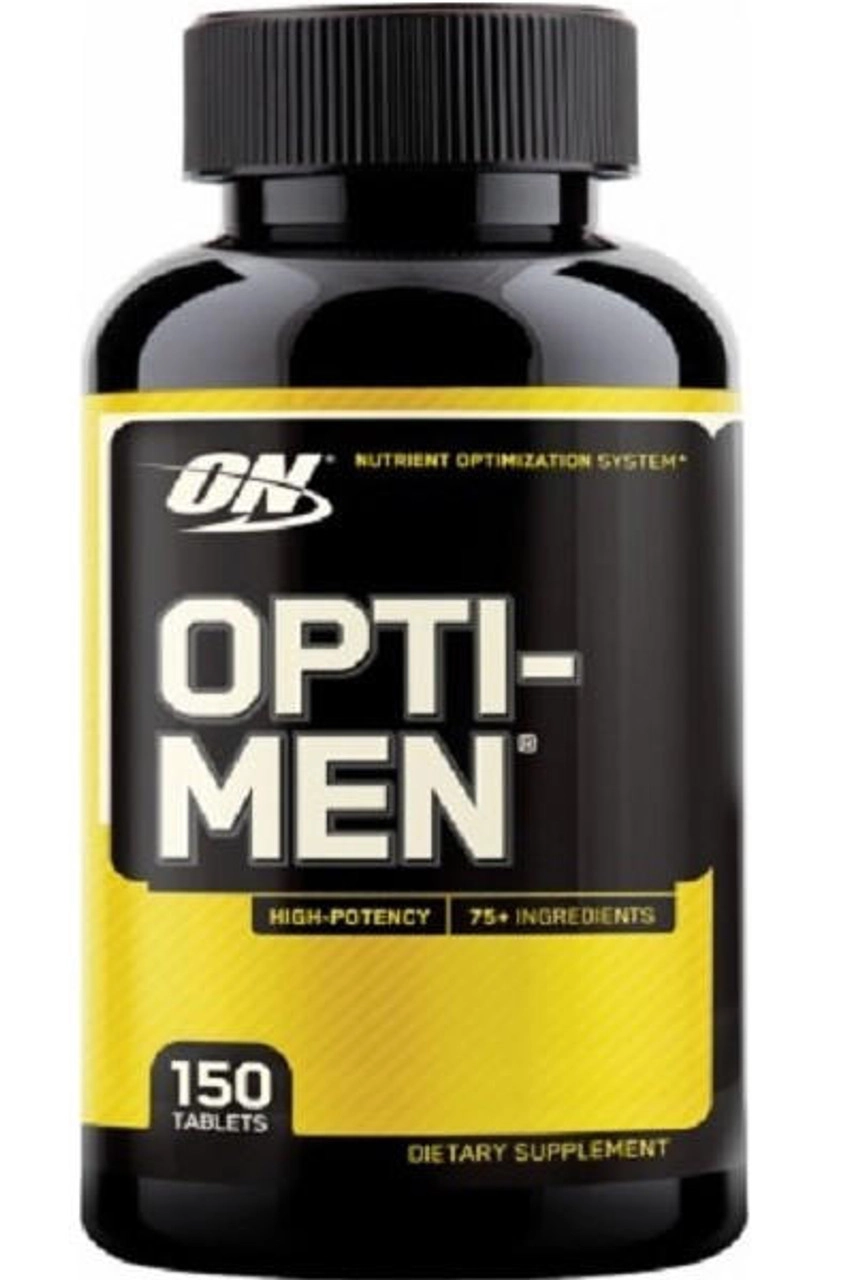 Opti-Men by Optimum Nutrition is one of the top multivitamin supplements that is loaded with essential nutrients, minerals, and antioxidants. It is designed to improve immune function, enhance muscle function, and support energy production and recovery.
It is packed full of over 75 active ingredients, including vitamins and essential nutrients, minerals, and antioxidants. It provides all ingredients in blends that are specifically designed to support nutrient needs.
How does it work?
The ingredient in Opti-men mainly contains minerals, nutrients, and vitamins that allow your body to achieve its optimal level and stay healthy. This product supports cell growth, maintains your body's chemical level, and changes into energy and tissues.
Moreover, it allows essential vitamins to pass through the body and utilize it. It improves your workout recovery, increases muscle growth, and greater strength.
Opti-Men Customer reviews:
ON is on
"Energy energy just as good if not better than any other multi , plus BCAA,s with Optimal nutrition reliability."
- Jay B.
Good Stuff
"Took this and I am satisfied with it. Has all the stuff I need in a multi."
-Max
Good
"It is a good product"
-Will
Animal Pak Powder by Universal Nutrition
Animal Pak by Universal Nutrition is one of the top choices among bodybuilders, sports enthusiasts, and powerlifters. It is designed to help fitness enthesitis, and athletes reach their goals. It has a successful and long history in the health nutrition industry since it was introduced to the sports industry in 1983.
It comprises a blend of vitamins, amino acids, minerals, and other nutrients that support your athletic performance, speeds up recovery, and improve your overall health.
It has been loaded with 60+ highly absorbable nutrients that boost your training performance and enhance your energy during workouts.
Ingredients in Opti-Men and Animal Pak
Common ingredients of Opti-Men and Animal Pak
There is a variety of ingredients that are present in both Opti-men and Animal Pak. Here are a few examples:
Vitamin A:
The first ingredient that is common in both supplements is Vitamin A. Vitamin A helps you enhance immunity and the cardiovascular system. In Animal Pak, vitamin A is seen as beta carotene and acetate, while in Opti-Men, it is seen as beta carotene and mixed carotenoids. Furthermore, Opti-Men has 3000 mcg of vitamin A, and Animal Pak has 1780 mcg of it.
Vitamin C:
Vitamin C is a water-soluble vitamin that is dissolvable in water and does not store in the body. Therefore, you can consume substantial amounts of vitamin C without a significant risk of side effects. It helps maintain tissue health and strengthen bones. Both of them have vitamin C in the form of ascorbic acid.
Vitamin B12:
Vitamin B12 is naturally found in meat, eggs, milk, etc. It keeps and maintains red blood cells healthy and makes DNA. It also plays a major role in the development of brain cells and nerve cells. Vitamin B12 can be found in both supplements in the form of cyanocobalamin. Opti-Men has 100 mcg of vitamin B12, while Animal Pak has 1000 mcg.
There are other vitamins as well, like Vitamin D, Vitamin E, Vitamin K, folate, biotin, and many more that is common in both Opti-Men and Animal Pak that perform various function in our body.
Calcium
Calcium present in Opti-Men and Animal Pak is essential for building and maintaining bones, regulating heart rhythm, and transmitting nerve impulses. Animal Pak contains 2.2 g of calcium, while Opti-Men includes 50 mg.
Magnesium
Magnesium is needed for various chemical reactions in the body, like regulating blood pressure, blood sugar level, and nerve function. Opti-Men has 80 of magnesium, whereas Animal Pak has 400 mg of it.
Zinc
Zinc in these supplements is a crucial player in supporting the immune system, repairing damaged tissues, reducing inflammation, and speeding up wound healing. Opti-Men has 15 mg Zinc and Animal Pak has 30 mg.
In addition, in small quantities, these supplements share several other minerals in common, such as choline, selenium, folic acid, iodine, copper, and others.
Ingredients in Opti-Men
Amino men blend:
Amino men blend plays an essential role in the growth of lean muscle. It contains key amino acids like L-Arginine, L-Leucine, L-Glutamine, L-Cystine, L-Valine, L-Isoleucine, L-Lysine Hydrochloride, and L-Threonine.
Phyto Men Blend:
Phyto Blend contains antioxidants and plant powders. It helps you boost overall well-being. Its key ingredients include Green Tea Powder (leaf), Cranberry Powder, Hesperidin Complex (fruit), Papaya Powder, Apple Powder, Deodorized Garlic Powder (bulb), Grape Seed Extract, Fruit Blend (Orange Powder, Pineapple Powder, Bilberry Powder, Grape Powder, Blueberry Powder, Elderberry Powder, Black Currant Powder, etc.
Viri Men Blend:
Viri Blend contains 50 mg of Saw Palmetto Extract (berry), Damiana Extract (leaf), Nettles Powdered Extract (leaf), Panax Ginseng Extract (root), Ginkgo Biloba Powdered Extract (leaf), Pumpkin Extract (seed), and Raw Oyster Concentrate.
This blend can help you with blocking DHT and improve cognitive function, sexual health, mood, and blood flow in the brain. It also reduces inflammation and prostate size.
Enzyme Blend:
The enzyme blend contains 50 mg of Papain, Alpha-Amylase, Bromelain, and Lipase. These are digestive enzymes that help in the breakdown of protein, carbohydrates, and fats.
Ingredients in Animal Pak
Amino Acid Complex:
Amino Acid Complex is a blend of 13 amino acids that Opti-Men does not have. This blend has a wide variety of benefits, including improved endurance, performance, and recovery. These 12 amino acids are Alanine, Aspartic Acid, Glutamic Acid, Glycine, Hydroxyproline, Histidine, Methionine, Phenylalanine, Proline, Serine, Tryptophan, and Ornithine.
Performance Complex:
It contains Eleutherococcus senticosus, Carnitine, Choline, Bitartrate, Inositol, L-taurine, and L-glutamine. Different ingredients in this complex help you with increasing mental alertness, recovery, and endurance. This blend also plays a vital role in transporting fatty acids into your cell.
Antioxidant Complex:
Antioxidant Complex comprises Pine Bark Extract, Alpha Lipoic Acid, Coenzyme Q10 (CoQ10), Grape Seed Extract, Lutein, and Lycopene. This complex is effective in reducing oxidative effects like muscle soreness and damage. It also plays an essential role in metabolism and ATP production and enhances exercise performance.
Digestive Enzyme Complex:
It includes Insulin, Ginger Root, Bromelain, Acid Protease, Papain, Lipase, and Black Pepper Extract. It helps with digestion, reduces inflammation, and improves immune response. Many studies state that this complex also has the ability to absorb drugs and natural compounds.
Comparing the Benefits of Opti-Men and Animal Pak
Key Benefits of Opti-Men
Opti-Men offers more than just a standard multivitamin. It has been formulated with fundamental nutrients and vitamins that promote healthy cellular function. The substances in Opti-men are utilized by our bodies to help in critical functions in one way or another way.
Moreover, additional ingredients have been added to the product that provides further benefits when taking it. It contains a unique blend of vitamins, amino acids, and minerals that help you enhance muscle production, improve energy levels, and maintain and repair muscle tissues.
The following mentioned are the significant benefits of Opti-men:
Vitamin B is helpful in converting food into energy, thereby increasing energy production. Other vitamins like Vitamin C and D improve the immune system, while Vitamin E is necessary for the normal function of the human body. Also, Vitamins C and E are good sources of antioxidants and help improve endurance during training.
It consists of four different digestive enzymes that help improve your digestion and facilitate better and quicker absorption of nutrients.
This product provides BCAAs in free form, and it is essential during your workout and post-workout. It helps you with muscle growth and muscle recovery.
The amino acid in the product allows the user to increase energy levels, enhance muscle production, and maintain and repair muscle tissues.
It supports cardiovascular and bone health.
It lowers your blood pressure.
It Promotes muscle and nerve function.
It has many anti-inflammatory benefits.
Key Benefits of Animal Pak
This power pack has all the essential ingredients that the body requires to perform at its peak. Animal/Universal supplements made sure to create a supplement like no other. It contains a powerful combination of minerals, key vitamins, BCAAs, digestive enzymes, and essential fatty acids. It has a complete and balanced nutrition that fulfills all training needs.
Its key benefits include:
Vitamins B6 and B12 contribute largely to the proper functioning of mental health, immune health, nervous system, and energy metabolism.
Vitamin C helps protect the cell from oxidative stress and the production of collagen, which is crucial for the optimal function of the bones, skin, cartilage, teeth, or gums.
Vitamin B5, vitamin B2, and Vitamin B3 aid in reducing muscle fatigue and tiredness.
Vitamin D has positive effects in improving immunity, proper muscle functioning, maintaining healthy bones, and absorption of calcium and phosphorus.
It increases your energy.
It Increases strength and power.
It boosts the hormonal level.
It Improves concentration and focus.
It Promoted increased muscle growth and repair.
It Enhances muscle recovery.
It Boosts fat burning.
It Improves digestion.
It Enhances athletic performance.
It helps maximize gain in muscle mass and improve muscle growth.
Other Multivitamins Worth Checking Out
Myovite by Myogenix 44 Pack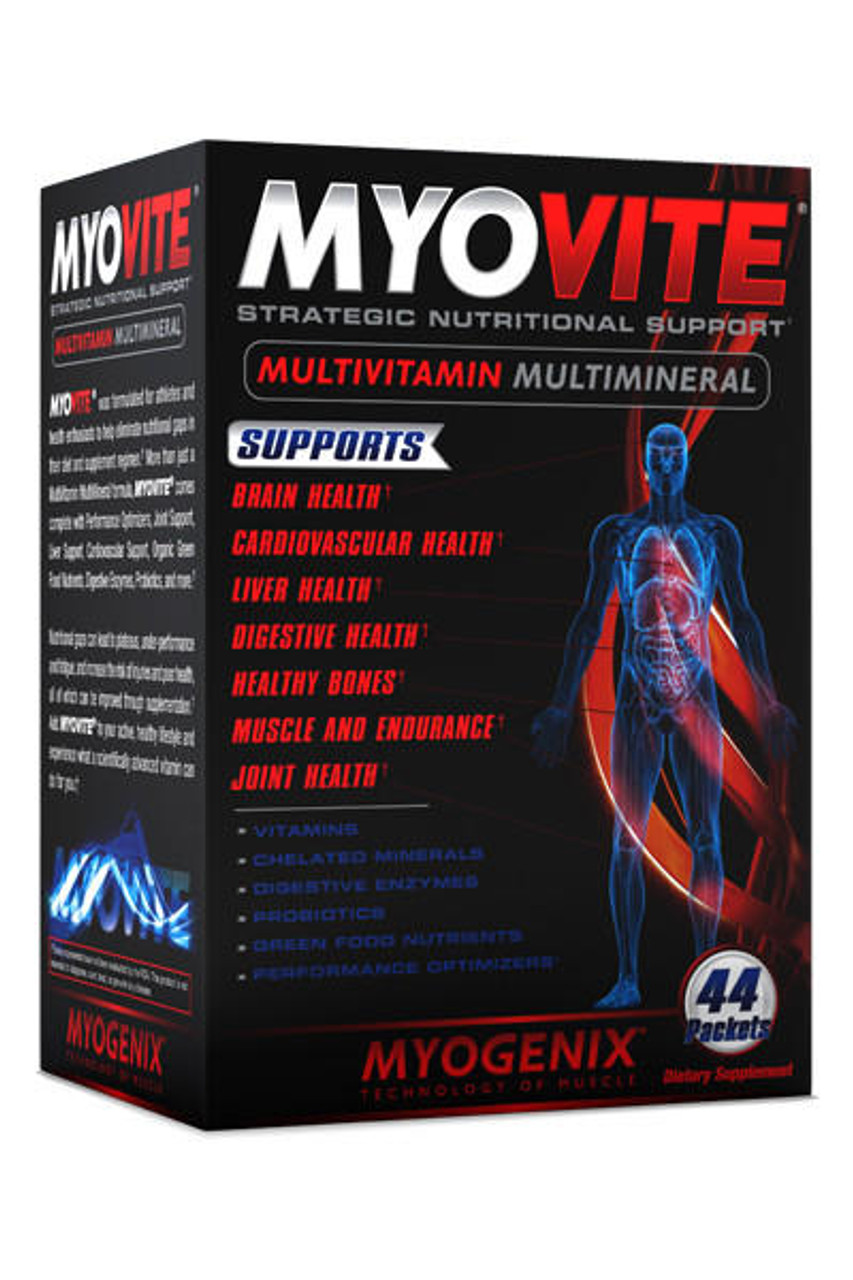 Myovite by Myogenix 44 Pack is a top-class supplement that helps you remove nutritional gaps in your diet and supplement regimen. Nutritional gaps can lead to underperformance and fatigue, plateaus, and increase the risk of injuries. And all of these can be improved through this supplement.
Its key ingredient includes:
Joint & Tissue Support: To promote connective tissue and healthy joint structures and to help your body function at a maximum level.
Performance Optimizers that support endurance, lean muscle mass, and recovery.
Liver Detox that promoted daily liver health and detoxification.
Digestive Enzymes that promote a healthy digestive system.
Vitamin A as a beta carotenoid.
Vitamin C as ascorbic acid
Vitamin D as a cholecalciferol
Vitamin B1 as thiamin HCL
Vitamin B2 as Riboflavin
Key benefits:
It maximizes your body's performance.
It maintains a hormonal balance and improves joint health.
It promoted liver support and cardiovascular support.
It Improves memory, mental sharpness, and the overall function of the brain.
It supports muscle endurance and builds muscle and recovery.
Customer reviews about the product
Unbelievable
"So I've taken Orange Triad, Opti Men and a few other Multi's and hands down Myovite is the best Multivitamin Multimineral out there by far. Stop waisting your money on the others. In one weeks time I can tell a huge difference in my performance in the gym. It also gives me a super immune system. AMAZING!!!"
- 6foe
Best Multi Available!
"This multi vitamin supplement is now part of my daily routine. Definitely a "top rated multi" and convenient considering I don't have to buy 10-20 different products when I can get all the regular vitamins and extra in one product. I order 2-3 boxes of Myovite per time and receive it in AUS with no shipping issues at all. Not to mention Strong Supplement Shop is one of the most reliable online supplement retailers I've known about for years and have had numerous experience with other products of theirs in the past. I just made my next purchase and will continue to do so in the future. Keep it up guys and appreciate what you do!"
-Robert
Good stuff
"If you take two packets it only last 22 days but that being said its ingredients panel is far better than all the other vitamins out there. I also like that it has a focus blend on greens instead of fruit complexes. The amino acids are solid the detox blend is solid and it has glucosamine and msm. I wish it had hyrolonic acid in it also but all in all this is a very good vitamin."
-jordan
Mens Multi + Test by GAT Supplements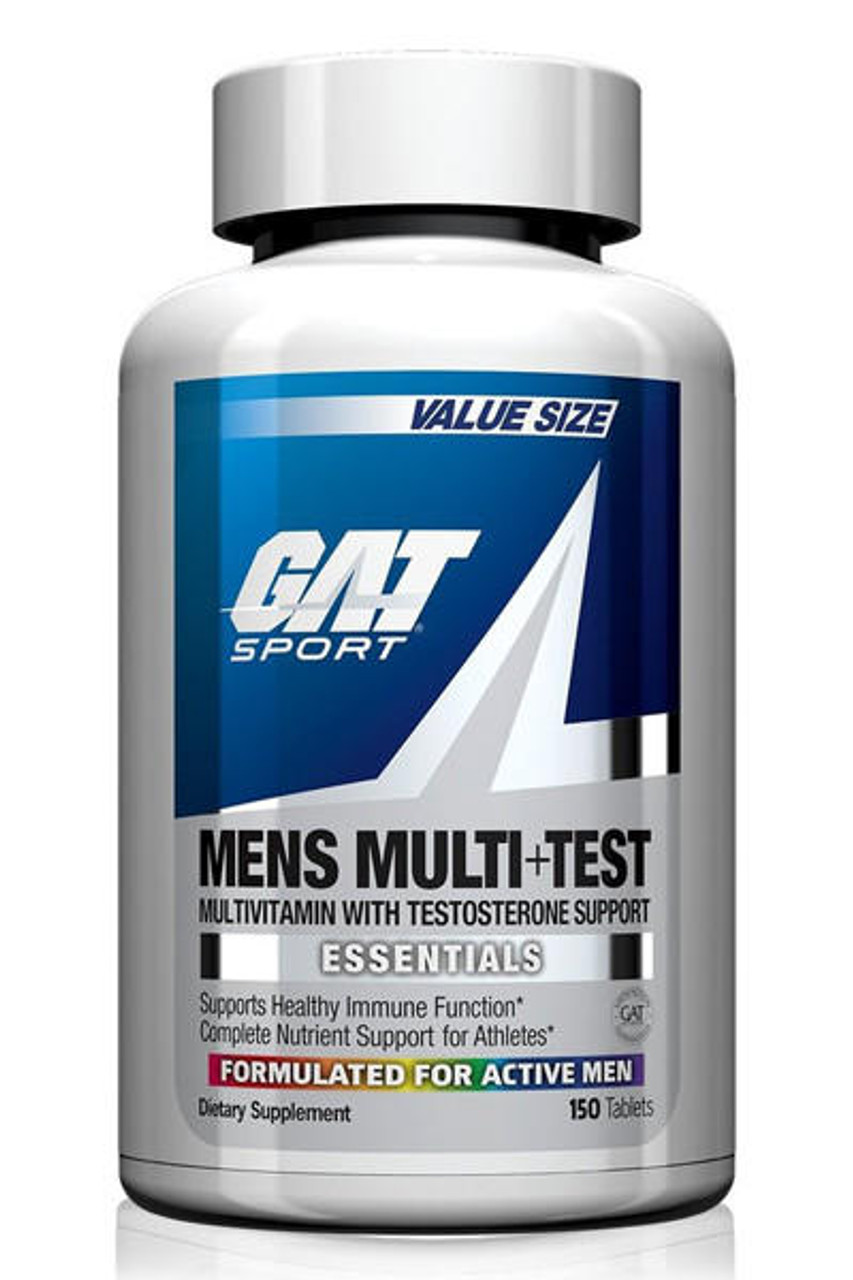 Mens Multi + Test by GAT Supplements is a complete energy multivitamin that helps athletes to support enhanced muscle strength, a healthy immune system, and enhanced estrogen levels. It offers athletes reliable support for nutrient deficiencies that many players face.
Its key ingredients include:
Vitamin A as Retinyl Palmitate
Vitamin C as Ascorbic Acid
Vitamin D as Cholecalciferol
Vitamin E as d-alpha-tocopherol succinate
Vitamin K as Phytonadione
Thiamine as Thiamine HCl
Other Ingredients include Dicalcium Phosphate, Stearic Acid, Microcrystalline Cellulose, Croscarmellose Sodium, Silicon Dioxide, Magnesium Stearate, and Pharmaceutical Glaze (Shellac, Povidone).
Key benefits:
It improves your athletic performance.
It helps boost your immune system.
It promoted testosterone levels.
It enhances energy levels.
It also has anti-inflammatory benefits.
Customer reviews about the product
Great Multi
"I was looking for a multi that was well dosed with ingredients without having to take a ton of pills. I came across GAT's Men's Multi + Test and it was a game changer. Only having to take two pills per serving while getting in all the necessary vitamins and minerals with the extra cherry on top for the natural test boosting minerals. I would recommend this multi for anyone looking to ensure they get in the essential daily vitamin and minerals."
-josh S
Must have supplement
This was my first time with GAT products. I have found the Men's Multi Test to be very good based off the the vitamins and minerals it provides. Did not upset my stomach or cause any problems. Will buy again and again.
-jason
Outstanding
This vitamin along with DAA MAXX have been great. Having suffered a bad head injury a few years ago, and becoming soft and out of shape, these have been getting me back to working out again.
-Mark
MuscleVite by Hi-Tech Pharmaceuticals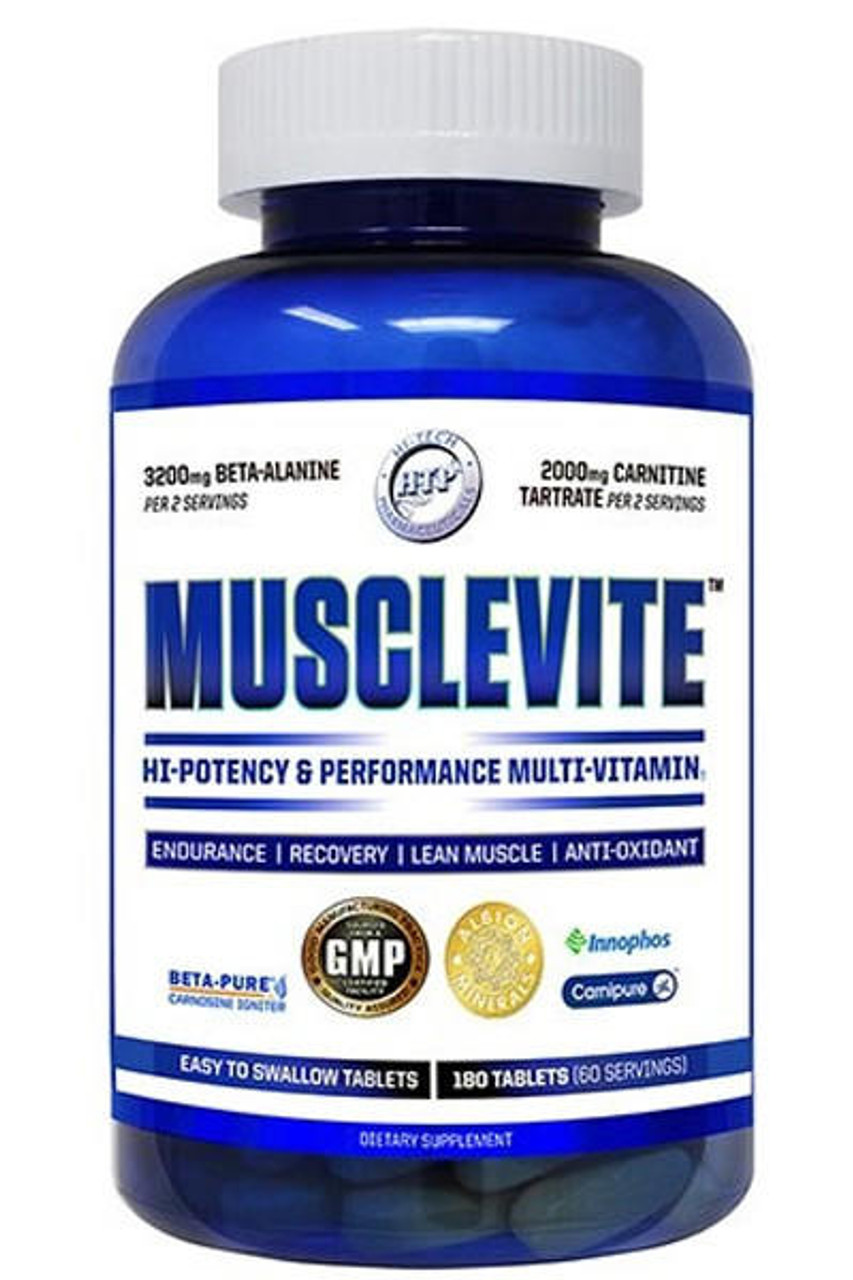 MuscleVite by Hi-Tech Pharmaceuticals is a complete performance multivitamin and multi-mineral supplement with higher doses of crucial vitamins and minerals designed for athletes and bodybuilders. Its key ingredients include:
Beta-Alanine: It helps in the production of carnosine. Studies have shown that carnosine has an essential role in muscle endurance and high-intensity workout. More carnosine allows our body to perform for a longer period without getting fatigued.
Carnitine: It is a type of amino acid that increases the energy level of our body by transporting fatty acids into the cell, where they are burnt up, and our body uses them as fuel. Carnitine has proven to be an excellent catalyst for both anaerobic and aerobic exercise. It can also help you with your weight loss journey as well since it is a fat burner.
Vitamin A as beta-Carotene
Vitamin C as calcium ascorbate
Vitamin D as cholecalciferol
Vitamin E as d-alpha tocopheryl acetate
Vitamin K2 as menaquinone 4
Vitamin B1 as thiamine mononitrate
Vitamin B2 as riboflavin
Key benefits:
It provides increased energy.
It aids in improving performance.
It increases the growth of muscles.
Boost muscle recovery after exercise
It is an antioxidant.
Customer reviews about the product

These are good vitamins and they're a good value. .
"They work and supply a lot of the vitamins needed to assist in lifting, I still prefer opti men over these."
-Bill Z
Frequently Asked Questions (FAQs) About Opti-Men vs Animal Pak
Q: Which is better, Animal Pak or Opti-Men?
A: Both Animal Pak and Opti-Men are high-quality multivitamin supplements that can help you meet your athletic and fitness goals and provide essential nutrients for overall health and well-being. Both supplements have a wide range of minerals, vitamins, and other nutrients that aid you in promoting overall health and wellness, increasing energy levels, and improving athletic performance.
While there may be a slight difference in the specific nutrient composition of these two supplements, both are excellent choices for anyone seeking to improve their health and fitness. Ultimately, deciding between Animal Pak & Opti-Men comes down to your personal preference and individual goals and needs. However from the research I have done I could gather that:
Animal Pak: Best for Hardcore Athletes and Bodybuilders
Opti-Men: Best for Fitness People
Q: What are the key benefits of Opti-Men?
A: Opti-Men is a multivitamin that can provide your body with key nutrients and minerals that your body might not take from the diet. It supports your immune system, increasing energy levels and promoting muscle growth and recovery. It also helps increase muscle growth, maintain muscle, and improve endurance during your workout.
Q: What are the key benefits of Animal Pak?
A: This multivitamin is loaded with necessary nutrients that provide numerous health benefits. It helps increase muscle growth and boost performance. It promotes a healthy immune system and supports recovery after intense workouts. It improves your strength and power and provides you with improved and long-lasting energy.
Q: What are the potential negative impacts of Opti-Men?
A: Although Opti-Men is generally safe for most individuals, some people may experience minor side effects like headaches, dizziness, nausea, or blurred vision.
Q: Are there any possible side effects associated with the use of Animal Pak?
A: Like Opti-Men, Animal Pak is also generally considered safe for most individuals. However, some people may experience small side effects such as nausea, diarrhea, dizziness, or upset stomach.
Q: Are there any age restrictions for taking these supplements?
A: Yes, it is not recommended to take these supplements before reaching the age of 18.
Conclusion
To sum up, both Animal Pak and Opti-Men are excellent and high-quality multivitamins that provide a wide range of health and fitness benefits. Both Universal/Animal Supplements and Optimum Nutrition are legitimate companies. While there may be a slight difference in nutrient profile between these two, both supplements are designed to provide essential nutrients and effective options for those who are looking to improve their health and fitness.
These multivitamins supplements are loaded with various vitamins, minerals, and other nutrients that are helpful in supporting your health and fitness journey.
Written and Sponsored by Leonard Shemtob
Leonard Shemtob is President of Strong Supplements. Leonard has been in the supplement space for over 20 years, specializing in fitness supplements and nutrition. Leonard has written over 100 articles about supplements and has studied nutrition, supplementation and bodybuilding. Leonard enjoys weight training, playing basketball and yoga, and also enjoys hiking. In his free time he studies and works on improving himself. His personal blog is www.leonardshemtob.com
Sources:
https://www.predatornutrition.com/articlesdetail?c...
https://fitnessclone.com/opti-men-review/#Opti-Men...
https://brainreference.com/opti-men-review/
https://gymbeam.com/animal-pak-powder-universal-nu...