Posted by Leonard Shemtob on Sep 29, 2023
Welcome to our inclusive and exciting review of Epitome by EvoMuse, a groundbreaking product promising a revolutionary approach to weight loss and fat burning!
Let's break down the unique new formula in this product and see if it's the real deal.
---
Short Summary:
Comprehensive insight into EvoMuse's cutting-edge weight management supplement, Epitome, crafted for effective fat loss.
Exploration of Key Ingredients such as Birch Bark Extract, Orthosiphon Stamineus, Gynostemma Pentaphyllum, and Chitosan, highlighted for their fat-burning, metabolism-enhancing, and holistic health properties.
Get Epitome by EvoMuse and start your transformative journey to a leaner you!
Related Reads:
---
What Is Epitome?
Epitome by EvoMuse is your go-to transformative supplement, designed to accelerate your journey to a leaner, healthier you. It's more than a weight-loss supplement; it's a holistic approach to well-being.
Epitome manipulates the leptin pathway, optimizing hunger management and body weight, and employs advanced ingredients like Gynostemma Pentaphyllum to activate AMPK, simulating the effects of an intense workout and accelerating fat-burning.
Here's the scoop – ingredients like Birch Bark Extract and Magnolia Officinalis are the heroes, reducing inflammation and suppressing fat accumulation, while the unique Betulinic Acid/Ascorbic Acid Crystalline Complex clears vascular plaque and restores vascular function.
Semen Cassiae boosts the breakdown of lipids, and Chitosan ensures maximum efficacy by enhancing the absorption of all these active ingredients.
---
Benefits of Epitome:
Accelerates fat loss and burns fat effectively
Optimizes leptin signals managing hunger cues
Enhances metabolism through AMPK activation
Supports vascular health and insulin regulation
Controls appetite and improves overall metabolic health
Provides anti-inflammatory and lipid-lowering properties through birch bark extract
---
Dissecting The Key Ingredients of Epitome:
Epitome by EvoMuse is blended with exceptional ingredients each serving a unique purpose in your body transformation journey:
Birch Bark Extract: Known for its powerful anti-inflammatory properties, this extract also aids in reducing fat storage.
Orthosiphon Stamineus Leaf Ethanol Extract: This herb is a game-changer in normalizing leptin levels and boosting leptin signals, equating to balanced appetite and enhanced fat metabolism.
Gynostemma Pentaphyllum: A notable AMPK activator, mimicking the impacts of a strenuous workout and propelling fat loss.
Stem Bromelain: Promotes continuous fat burning, particularly after consuming carbs, by inhibiting the enzyme PDE-3B.
Betulinic Acid/Ascorbic Acid Crystalline Complex: A unique combo in Epitome improving absorption and targeting various critical areas like restoring vascular function and reversing insulin resistance.
Magnolia Officinalis: Suppresses accumulation of visceral fat induced by cortisol and inhibits aromatase, contributing to holistic fat loss.
Semen Cassiae: Enhances lipolytic function, working synergistically to accelerate the release and burning of fatty acids.
Chitosan: Forms a gel in the intestine, boosting absorption of other active ingredients and ensuring maximum efficacy.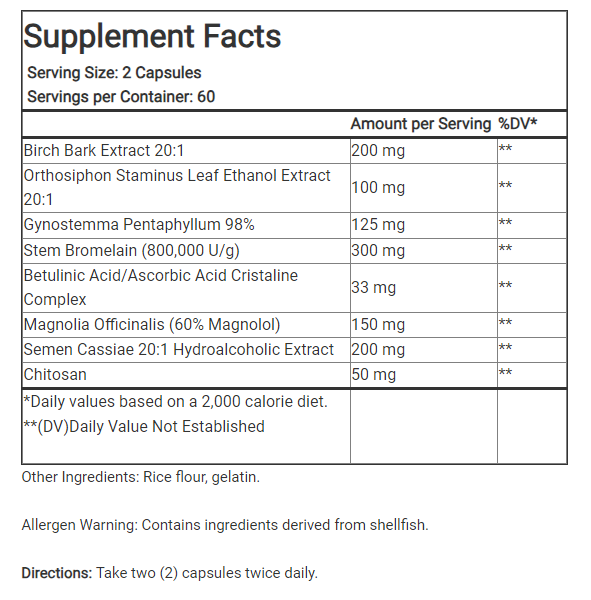 ---
Our Expert Opinion
Epitome by EvoMuse is a distinctive supplement designed for those eager to burn fat efficiently. It employs a meticulous blend of scientifically supported ingredients like Birch Bark Extract and Gynostemma Pentaphyllum to optimize metabolism and appetite.
While its holistic and science-backed approach is commendable, optimal benefits are observed when it's synergized with a balanced diet and regular workouts.
However, the use of a shellfish-derived ingredient might narrow its user base.
After a thorough analysis, we find it worthy of consideration for those committed to their fitness goals, awarding it an 8.4 out of 10.

---
To Wrap Things Up:
Epitome by EvoMuse, with its advanced nutritional technology and premium ingredients like chitosan and semen cassiae, stands as a pinnacle in weight management solutions.
Whether you're on a fitness journey or just looking to shed some pounds, this supplement can be your ally, offering multifaceted benefits from controlling appetite to improving metabolism.
However, remember, it doesn't replace a balanced diet and regular exercise but rather enhances your results when combined with a healthy lifestyle.
---
Written and Sponsored by Leonard Shemtob
Leonard Shemtob is President of Strong Supplements. Leonard has been in the supplement space for over 20 years, specializing in fitness supplements and nutrition. Leonard has written over 100 articles about supplements and has studied nutrition, supplementation and bodybuilding.
Leonard's articles have been published in many top publications around the web. Leonard enjoys weight training, playing basketball and yoga, and also enjoys hiking. In his free time he studies and works on improving himself. His personal blog is www.leonardshemtob.com
Epitome FAQs
Many users notice changes in appetite and energy within a few weeks, experiencing significant fat loss over sustained use.
Epitome contains ingredients derived from shellfish, so it's important for vegetarians and people with allergies to consider this.
Yes, this combination is unique to Epitome and enhances absorption, clearing vascular plaque and restoring vascular function.
Absolutely, it activates AMPK signals, simulating the body's response to intense exercise and accelerating fat loss.
Dehelean, C. A., Şoica, C., Ledeţi, I., Aluaş, M., Zupko, I., Gǎluşcan, A., Cinta-Pinzaru, S., & Munteanu, M. (2012). Study of the betulin enriched birch bark extracts effects on human carcinoma cells and ear inflammation. Chem Cent J, 6(137). doi:10.1186/1752-153X-6-137
Ebeling, S., Naumann, K., Pollok, S., Wardecki, T., Vidal-Y-Sy, S., Nascimento, J. M., ... & Merfort, I. Understanding the clinically proven wound healing efficacy of birch bark extract. PLOS ONE. doi:10.1371/journal.pone.0086147
Ashraf, K., Sultan, S., & Adam, A. (2018). Orthosiphon stamineus Benth. is an Outstanding Food Medicine: Review of Phytochemical and Pharmacological Activities. J Pharm Bioallied Sci, 10(3), 109–118. doi:10.4103/jpbs.JPBS_253_17
Olah, N. K., Radu, L., Mogoşan, C., Hanganu, D., & Gocan, S. Phytochemical and pharmacological studies on Orthosiphon stamineus Benth. Journal of Pharmaceutical and Biomedical Analysis. doi:10.1016/s0731-7085(03)00227-9
Su, C., Li, N., Ren, R., Wang, Y., Su, X., Lu, F., ... & Ma, X. (2021). Progress in the Medicinal Value, Bioactive Compounds, and Pharmacological Activities of Gynostemma pentaphyllum. Molecules, 26(20), 6249. doi:10.3390/molecules26206249
Ahmed, A., Saleem, M. A., Saeed, F., Afzaal, M., Imran, A., Nadeem, M., ... & Al Jbawi, E. (2023). Gynostemma pentaphyllum an immortal herb with promising therapeutic potential: a comprehensive review on its phytochemistry and pharmacological perspective. International Journal of Food Properties, 26(1), 808-832. doi:10.1080/10942912.2023.2185566
Pavan, R., Jain, S., Shraddha, & Kumar, A. (2012). Properties and Therapeutic Application of Bromelain: A Review. Biotechnol Res Int, 2012, 976203. doi:10.1155/2012/976203
Novaes, L. C. de L., Jozala, A. F., Lopes, A. M., Santos-Ebinuma, V. de C., Mazzola, P. G., & Pessoa Junior, A. Stability, purification, and applications of bromelain: A review. Biotechnology Progress. doi:10.1002/btpr.2190
Nicolov, M., Ghiulai, R. M., Voicu, M., Mioc, M., Duse, A. O., Roman, R., ... & Soica, C. (2019). Cocrystal Formation of Betulinic Acid and Ascorbic Acid: Synthesis, Physico-Chemical Assessment, Antioxidant, and Antiproliferative Activity. Frontiers in Chemistry, 7(92). doi:10.3389/fchem.2019.00092
Niu, L., Hou, Y., Jiang, M., & Bai, G. (2021). The rich pharmacological activities of Magnolia officinalis and secondary effects based on significant intestinal contributions. Journal of Ethnopharmacology, 281, 114524. doi:10.1016/j.jep.2021.114524
Dong, X., Fu, J., Yin, X., Yang, C., Zhang, X., Wang, W., ... & Ni, J. (2017). Cassiae semen: A review of its phytochemistry and pharmacology. Molecular Medicine Reports, 16(3), 2331–2346. doi:10.3892/mmr.2017.6880
Aranaz, I., Alcántara, A. R., Civera, M. C., Arias, C., Elorza, B., Heras Caballero, A., & Acosta, N. (2021). Chitosan: An Overview of Its Properties and Applications. Polymers, 13(19), 3256. doi:10.3390/polym13193256
Cheung, R. C. F., Ng, T. B., Wong, J. H., & Chan, W. Y. (2015). Chitosan: An Update on Potential Biomedical and Pharmaceutical Applications. Marine Drugs, 13(8), 5156–5186. doi:10.3390/md13085156