Posted by Leonard Shemtob on Jun 05, 2023
Should You Take a Pre-Workout for Cardio?
Are you ready to supercharge your cardio sessions and enhance your performance with powerful supplements to elevate your workout experience, ensuring exceptional progress? Imagine being able to push yourself harder and further during your workouts, all while experiencing increased energy, focus, and endurance. That's where pre-workout for cardio supplements comes in, offering a transformative solution for those looking to optimize their cardio exercise.
In this blog post, we'll dive into the realm of pre-workout for cardio, exploring their role in boosting your cardio performance and how they can benefit different types of exercises. We'll also guide you in selecting the right pre-workout for cardio and your specific needs and discuss their ingredients and potential benefits.
Get ready to unleash your maximum potential, transform your exercise routines, and elevate your fitness journey to an entirely new realm.
Short Summary
Taking Pre-workout supplements can help boost cardio performance and endurance with energy-boosting ingredients.
Select the right pre-workout supplement for your goals, considering stimulant levels, ingredient profile & trustworthy brands.
Maximize benefits of pre-workout during cardio by proper timing, hydrating & nourishing, plus monitor progress to reach fitness goals faster!
[Related] Top 10 Pre-Workouts 2023
What is a Pre-workout?
Pre-workout supplements consist of a blend of various components that are created to increase performance, energy, endurance, and strength. Pre-workouts vary in their ingredient composition. While the specific ingredients can vary among different pre-workout supplements, most of them share several common components, including Beta-Alanine, Arginine, L-Citrulline, Caffeine, Betaine Anhydrous, and Taurine.
The Role of Pre-Workout Supplements in Cardio
Pre-workout supplements have gained immense popularity among fitness enthusiasts seeking to enhance their cardio performance. These supplements are formulated with a unique blend of ingredients that work synergistically to improve your energy levels, endurance, and mental focus during high-intensity exercise. Let us delve into their key benefits.
1- Increase energy
Many pre-workouts are formulated with energy boosters ingredients like caffeine that improve your energy level during workouts. Besides caffeine, certain pre-workouts incorporate nitric oxide precursor and creatine that work together to increase physical performance, enhance blood flow, and improve pump endurance.
2- Improve endurance
Several endurance-boosting found in pre-workout for cardio include beta-alanine, L-Citrulline, and branched-chain amino acids (BCAAs). These components help you boost endurance, improve muscle recovery, enhance vasodilation, and maintain a high-intensity level throughout your workout.
3- Increase Mental Focus and Intensity
Increased mental focus and intensity are one of the significant benefits of pre-workout for cardio. These supplements are often included with caffeine which is widely known for improving mental alertness and concentration. Some pre-workouts may also contain other focus-enhancing ingredients like L-Tyrosine, which helps enhance mental focus, alertness, and attention during your workout.
Top 8 Pre-workouts for Cardio
1- Seismic Surge by Hard Rock Supplements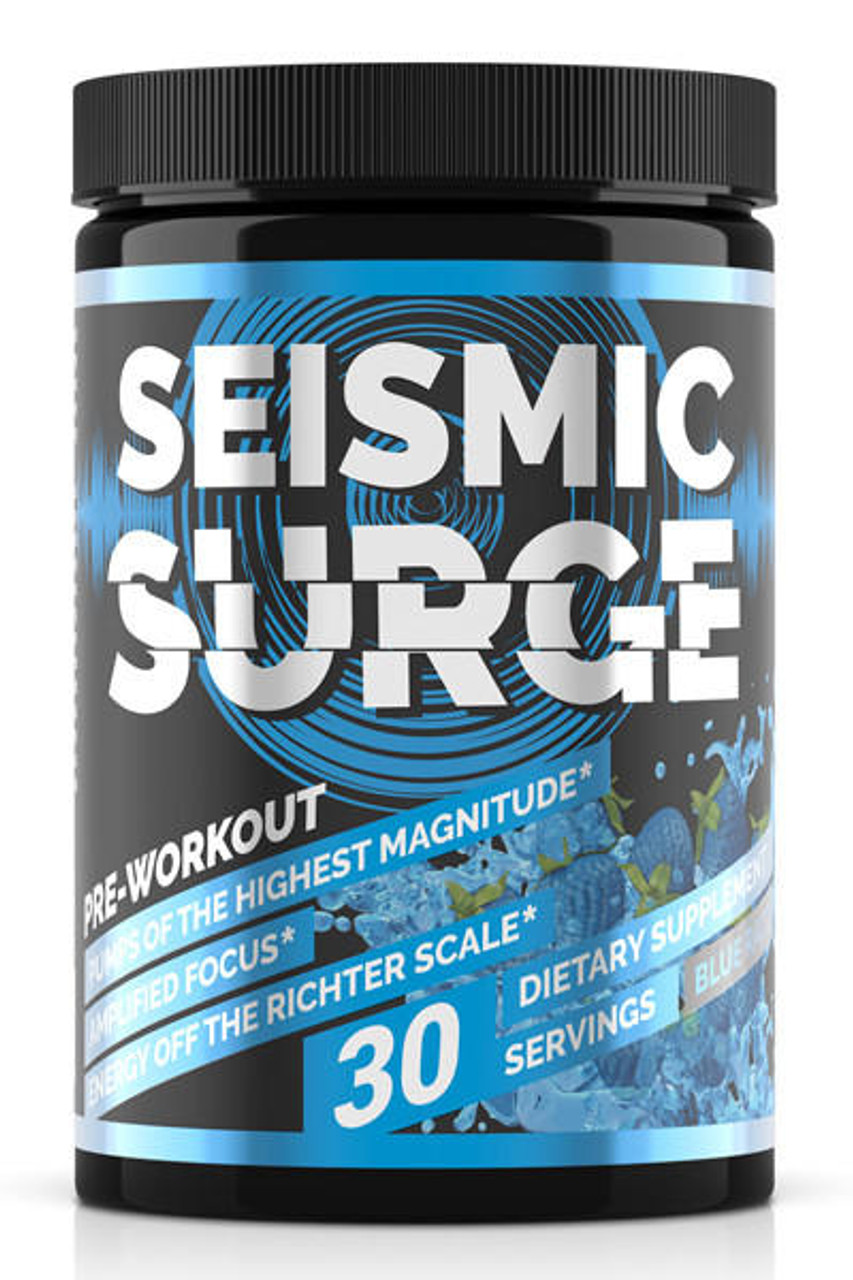 Seismic Surge by Hard Rock Supplements is one of the top pre-workouts that give new heights to your energy. It is designed exclusively for fitness enthusiasts that take their strength, stamina, and power to the next level.
Its key ingredients include:
Theobromine: It is derived from cocoa plants and gives you a pleasant sensation when consumed. It is used to balance out the effect of high doses of caffeine and other stimulants.
Beta Alanine: This non-essential amino acid helps to increase muscle carnosine level, resulting reduce muscle fatigue and enhanced performance.
L-Arginine Alpha-ketoglutarate: It works as a vasodilator that enhances nitric oxide production, which in turn enhances nutrient delivery and improves athletic performance.
Agmatine Sulfate: This compound is derived from Arginine, and it's become famous for its ability to boost growth hormone and increase nitric oxide production.
Caffeine Anhydrous: This compound promotes lipolysis leading to reduced body fats. Caffeine also aids appetite suppression, helping you reduce your daily calorie intake.
Its key benefits include:
It helps increase your energy.
It helps boosts muscle pump and endurance.
It aids in improving your concentration, mental alertness, and focus.
It helps improve your overall mood.
It aids in enhancing metabolism and muscle recovery.
Customer Reviews About the Product
Rocket Fuel
"Just had my 1st workout using this product and it did not disappoint one bit. It creeps up on you and all of a sudden you feel about 5X as strong as usual. Make sure to have longer cool down then usual and do not go over one scoop under any circumstances. Taste is not great but it lets ya know its not full of sugar."
-Tyler
Hard Rock Does it Again!
"I have been a big fan of the HR brand so I was extremely excited when I saw Seismic Surge - Alpha Lean has been one of my go-to energy pills over the last year and I have had great success with my cycles of ATG and Super Mandro.
That being said, wow! Seismic Surge met my very high expectations and surpassed them by a mile! I have never sweat so much on a pre workout and my vascularity and pumps were insane. Definitely one of the top 3 pre workouts I have ever tried - running this for a month straight, so if it keeps up like this, it will be number 1! Keep it up Strong Supp Shop! :)"
-Luke
HARD ROCK FOR THE NUMBER ONE IN ALL CATEGORIES!!!
"The best I've tried em all.mesomorph is good and wild thing to. But in comparison to this focus and pump...nothing cleaner... nothing has given me this much stamina.HARD ROCK SUPPS will continue to dominate the industry if they keep coming out with products like they have been. The only company that comes close in terms of potency and amount of product at a fair price is Olympus labs from the UK. Everybody else better step there game up or HARD ROCK SUPPS will crush you.."
-jordan
2 - Wild Thing By Assault Labs
Wild Thing Pre workout is the perfect way to get on the move for an intense cardio session. Wild thing contains aminos and nutrients to feed your muscles as well as nootropics to give you clarity and keep you focused when running. The stimulants in Wild Thing will have you running like your life depends on it! With over 200 reviews Wild Thing is a go to for cardio.
Well done
I usually stay away from supps with niacin, beta-alanine, etc because I hate the tingles. I took a sample of this and though the tingles showed up, they didn't give me a "your head is on fire" sensation like many supps do. No headache, no stomach upset, just tingles and consistent energy. I lifted heavier, longer and with more focus. The biggest surprise for me was the mood enhancement, which I personally really loved. No crash afterward. I ended up mixing this with a scoop of my non-stimulant preworkout from PES and got great results. Even the flavor was tasty.
-Ashley
Best pre-workout
I have tried many pre-workouts and Wild Thing is the best one I have found. Extreme focus and energy that lasts the entire workout. Has great flavor as well!
-Michael
3- Edge of Insanity by Psycho Pharma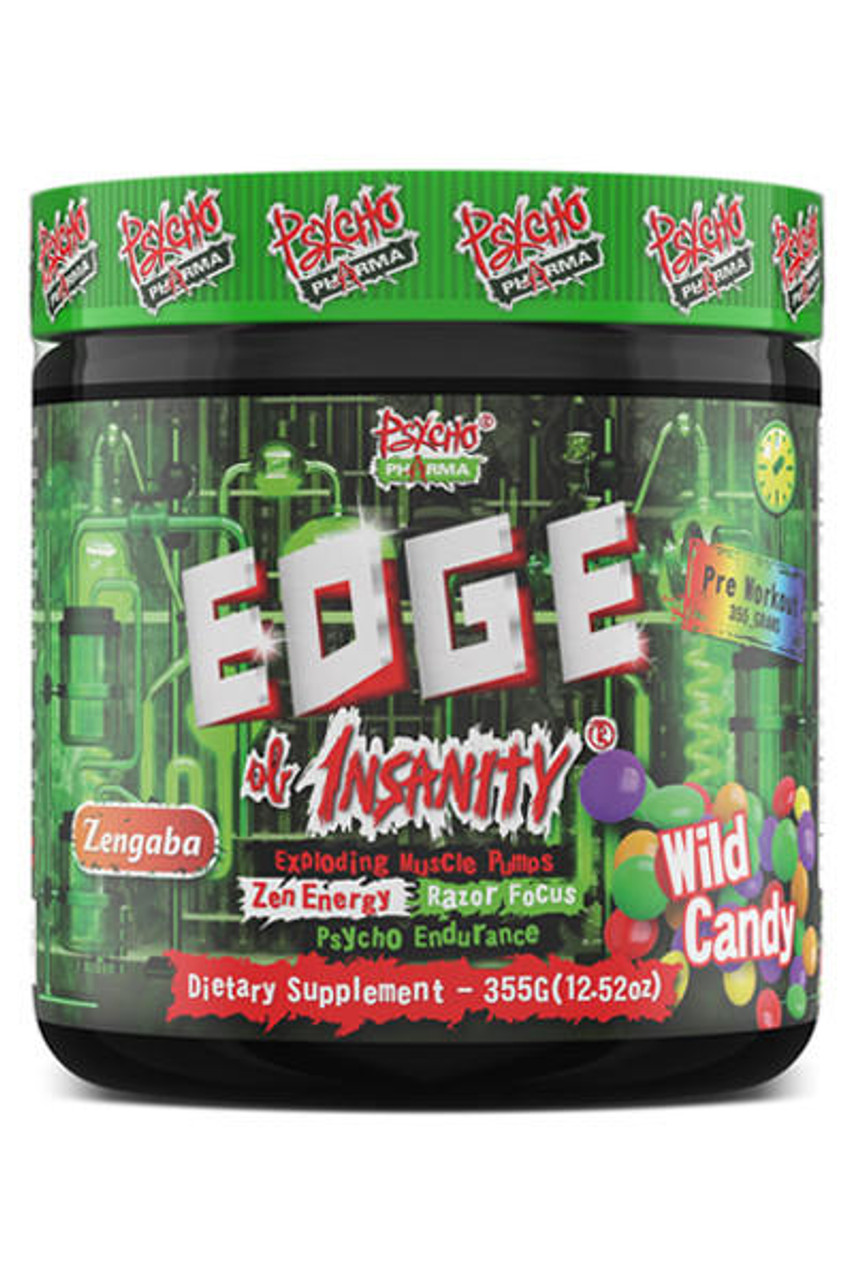 Edge of Insanity by Psycho Pharma enables you to achieve your ideal energy level while enhancing your endurance and promoting your muscle pump during a workout.
Its key ingredients include:
Citrulline Malate: It can help you increase water retention and improve energy and pumps.
Beta Alanine: It increases your muscle carnosine level leading to reduced muscle fatigue and increased workout performance.
Zembrin: This ingredient has been scientifically proven to increase a sense of calmness and tranquility. It also contributes to improving cognitive functions like mood enhancement and anxiety reduction.
Caffeine Anhydrous: It is a potent form of caffeine that helps facilitate a high level of training intensity. Moreover, it stimulates thermogenesis, leading to a boost in the body's fat-burning process.
Its key benefits include:
It helps increase your energy level and focus.
It boosts your muscle endurance and muscle pumps.
It helps improve your mood and overall body performance.
It improves muscle recovery.
Customer Reviews About the Product
Insane Energy!!!!
"I was skeptical before taking this product because of how high my tolerance was with pre workouts, but I'm so glad I made the choice of buying it!! The pump, energy, and focus on this pre-workout is insane! I'm usually at the gym for 2 hours and it helped me destroy my workout and break so many PR's! Definitely recommend!!! Especially for people who love stimulants!"
-Hasan
Powerful stuff
"This stuff hits hard. I have tried tons of dmaa pre workouts like mesomorph and I found this hit even better.
Might be just me, but if you are someone that uses a lot of stims and have a tough time getting energized from a lot of products I would give this one a go."
-Dave
Favorite preworkout!
"EDGE of Insanity is by far my favorite preworkout. If you're concerned about taste you'll love the flavor, but more importantly you'll actually see results. I not only take EDGE to get the extra kick of energy in the gym, but it hands down makes my skin look more dry, more vascular and the pump is insane. Definitely check out this preworkout!"
-Cody
4- All Out by Iconic Formulations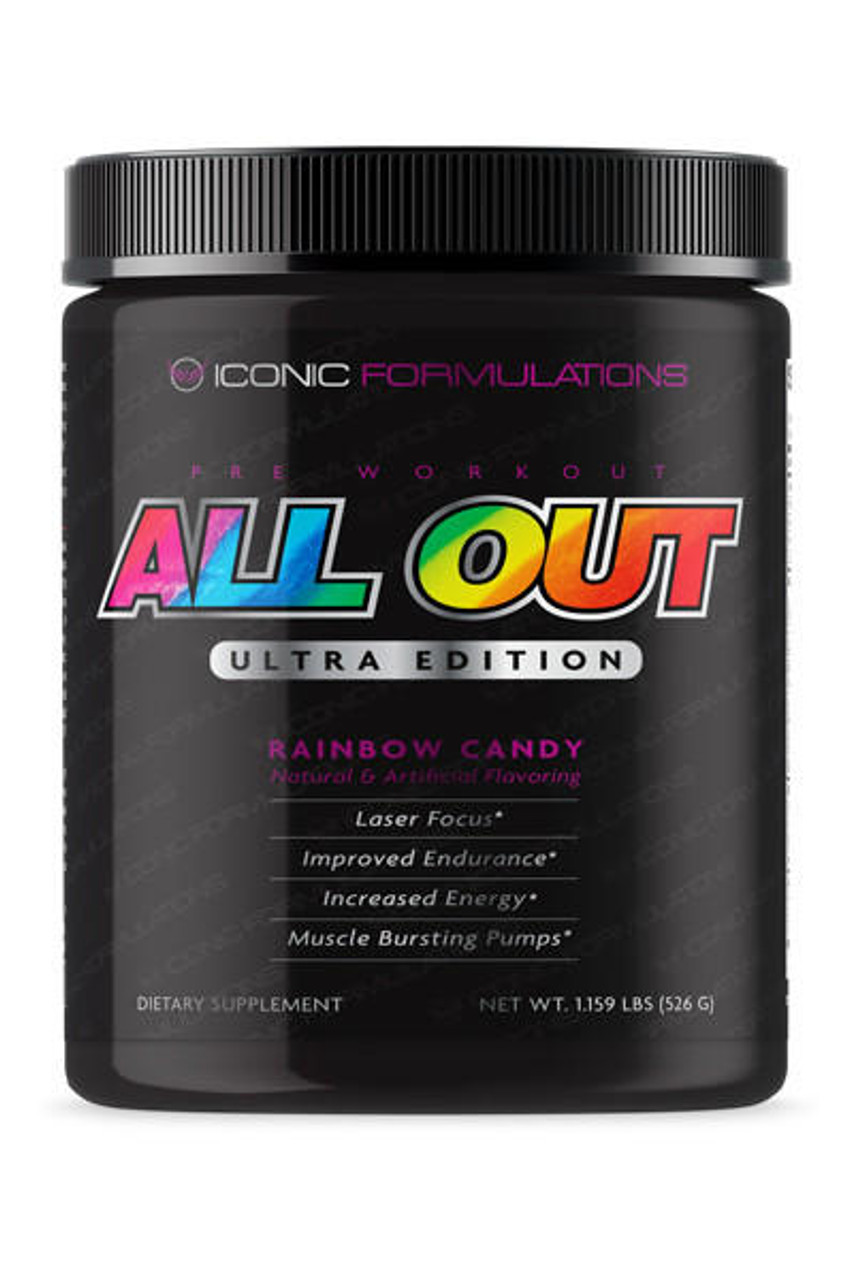 All Out by Iconic Formulations brings two choices for you: All Out Ultra Edition and All Out Sweat Edition. Both editions can provide you with a substantial boost in focus, energy level, muscle pumps, and a remarkable increase in energy level.
ALL OUT Ultra Edition:
This powerful supplement contains an energy matrix, a performance matrix, and an absorption enhancement blend. These ingredients synergistically work together to provide you with a massive amount of energy, pumps, and laser focus.
ALL OUT Sweat Edition:
ALL OUT Sweat Edition boosts your thermogenesis and fat-burning while you work out. It is formulated with a performance matrix, sweet matrix, energy matrix, and absorption enhancement blend that gives you ignited muscle pumps, promotes fat burning, and boosts your energy level.
Its key ingredients include:
Peak 02: Peak 02 is a blend of six adaptogenic mushrooms with scientifical evidence to improve energy and endurance as well as decrease the impact of mental and physical stress. It enhances athletes' maximum oxygen utilization capacity over time while improving oxygen efficiency during workouts.
L-Citrulline: It improves nitric oxide production, muscular energy, muscular strength, and power, as well as aids in reducing muscle fatigue and soreness after training.
Nitrosigine: This ingredient also boosts nitric oxide production in the body leading to enhanced blood flow, focus and energy level, and muscle pumps.
HydroPrime: It is a form of glycerol that improves hydration and thermogenesis and boosts muscle pumps and endurance.
Its key benefits include:
It enhances your focus to optimal levels.
It increases hydration.
It increases oxygen utilization.
It improves your energy, and endurance and provides you with a skin-bursting pump.
Customer Reviews About the Product
Awesome
"Been really enjoying this pre-workout so far. Feels like a clean energy with no jitters and a great addition to any cutting cycle. Nothing says you had a great workout more then being drenched in sweat by the end of it. Would definitely recommend."
-Andrew
All Out Pre Workout
"If you're looking for a pre workout that gets you pumped and mentally focused for your gym sesh, look no further. I typically go in the evenings and being especially sensitive to caffeine, I had no issues with too much caffeine keeping me up at night.
Again, if you're looking for a great pre workout, this is the one. You'll definitely be going all out with All Out!"
-John
5- Hosstility by Hosstile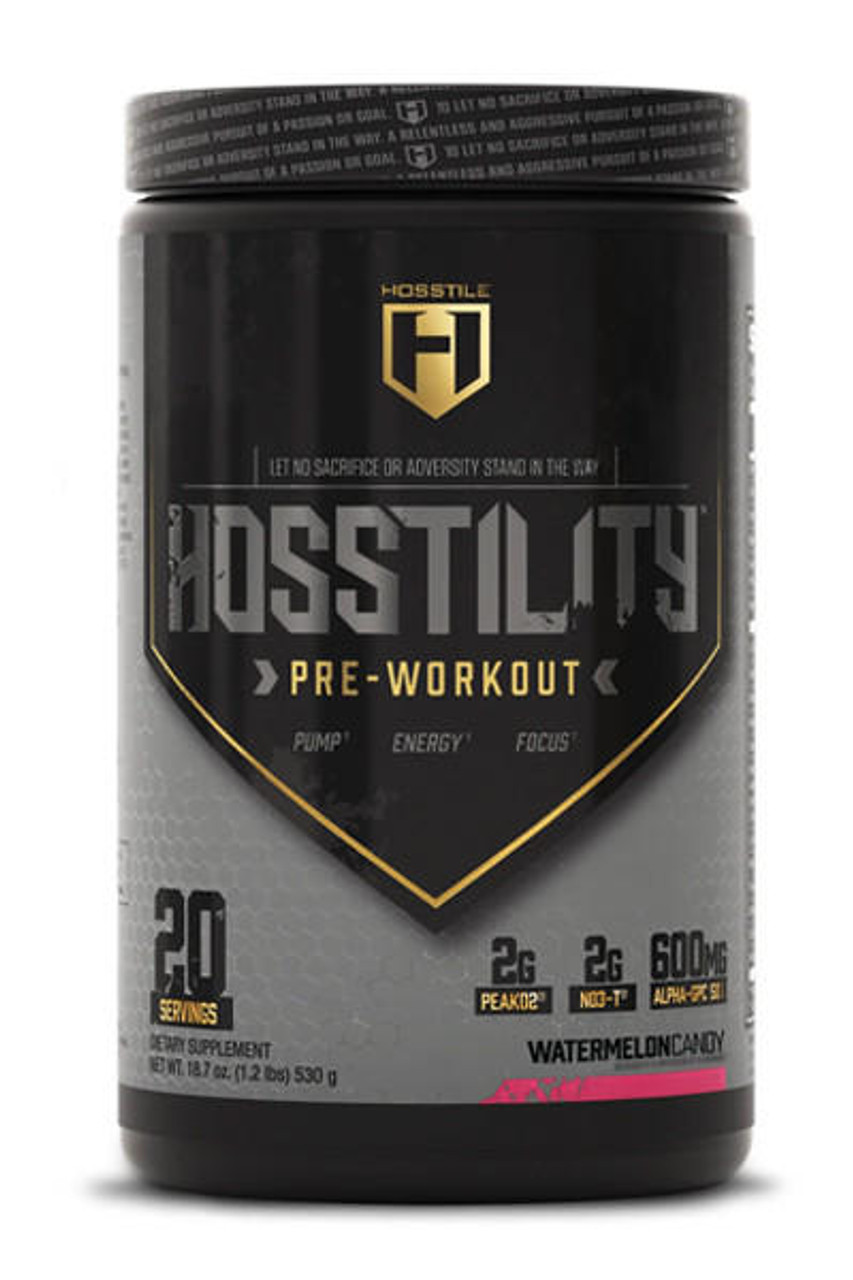 Hosstility by Hosstile is one of the best pre-workouts for cardio that helps you increase your strength, endurance, pump, and energy. It is a comprehensive all-in-one pre-workout stimulant that maximizes your performance and results.
Its key ingredients include:
L-Citrulline: L citrulline converts to L-arginine in the body, boosting both L-arginine and nitric oxide levels. This results in enhanced vasodilation, widening blood vessels to improve blood flow, nutrient delivery, and oxygen supply to working muscles during exercise.
PEAK02®: This ingredient is a scientifically developed blend of six adaptogenic mushrooms. It promotes oxygen utilization in the body and helps to adapt to stress.
Creatine Monohydrate: This ingredient helps regenerate ATP, the universal energy source for all cells.
Betaine Anhydrous: It is a muscle-building compound that is clinically proven to enhance strength, power, and endurance and helps reduce muscle fatigue and soreness.
Its key benefits include:
It improves endurance and pumps.
It increases your energy and body performance.
It boosts muscle strength and muscle function.
It increases nitric oxide levels and promotes vasodilation.
Customer Reviews About the Product
Great Energy and Pump
"Hosstility is a well formulated pre workout that is one of the best stim pre workout products i've used for energy and pump. Even at half serving I got the energy I needed for my workout and my arms were pumped. Not to mention the taste profile on both the peach and watermelon are off the charts. Hosstile is known for their amazing taste and they knocked it out of the park with this pre workout. I would highly recommend giving it a try if you haven't."
-Josh S.
Amazing pre
"Great pumps, great energy, great focus. Also take in the morning and have zero crash. Highly recommend"
-Jordan
6- Broken Arrow by Repp Sports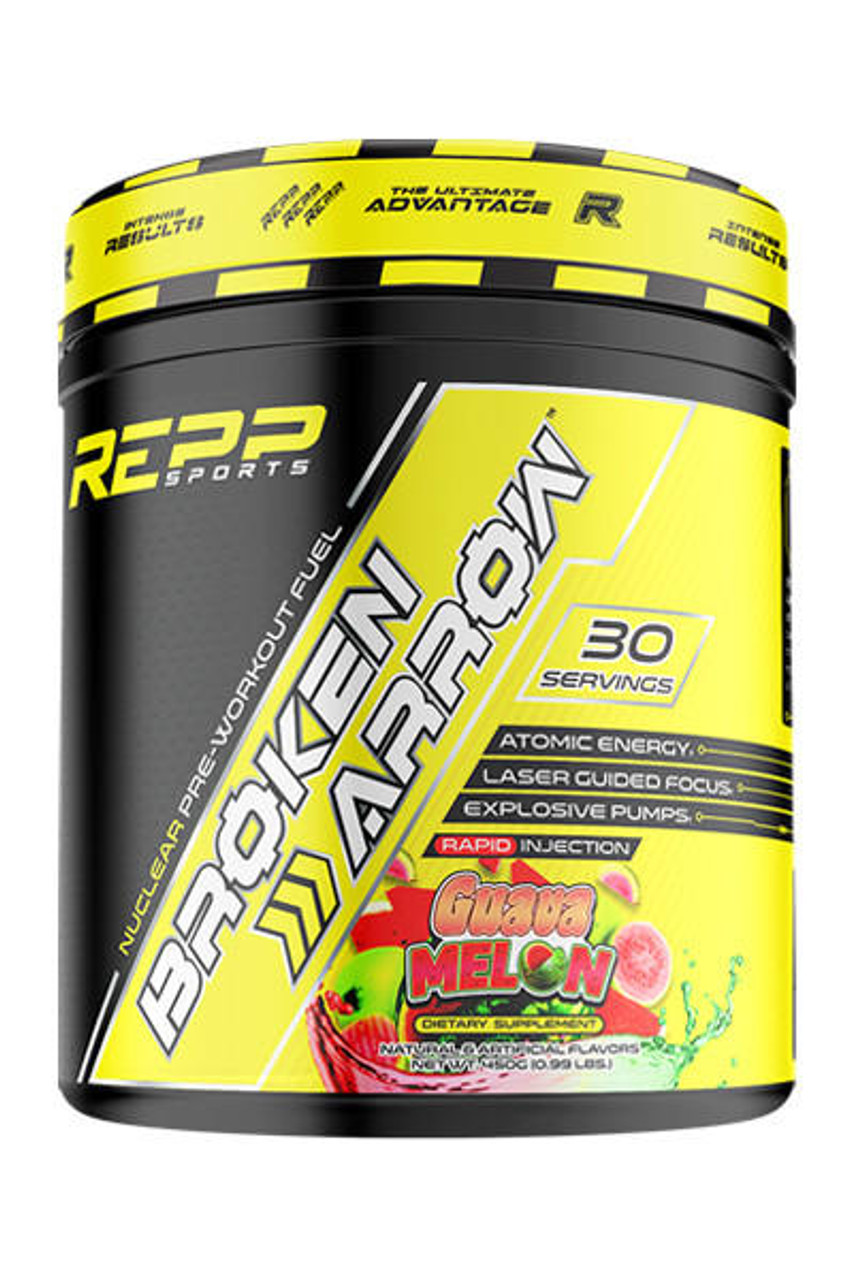 Broken Arrow by Repp Sports is formulated with a killer combination of ingredients that give new heights to your workout performance. Repp Sports ensured transparency and clarity with their label, providing brain enhancers that are fast-acting and long-lasting.
Its key ingredients include:
Alpha GPC: L-Alpha glyceryl phosphorylcholine is a natural choline compound in the brain. Alpha-GPC supplements efficiently deliver choline to the brain, leading to boost mode and mental energy and facilitating the growth of new brain cells.
Caffeine: It promotes lipolysis, which results in reduced body fat. It also helps with suppressing appetite leading to reduced daily calorie intake. Further, this ingredient is included to enhance mental alertness and focus.
L-Citrulline Malate: It is a widely used amino acid that helps in various training and recovery purposes. L-Citrulline also increases muscular energy, improving performance, endurance, strength, lean muscle mass, and faster recovery. Additionally, it increases nitric oxide production, promoting vascularity, muscle fullness, and impressive muscle pumps.
Its key benefits include:
It increases your energy and focus.
It provides long-lasting pumps.
It is known for its fast-acting formula.
It fuels your muscle cells.
Customer Reviews About the Product
Big Pump and Energy
"Great and powerful pump. Had energy for hours about 20 min after I took it. I like the formula since it has more amino than the other preworkouts i have taken. Flavor is good too. Guava melon is delicious and so is the lime ice, some of the best flavored pwos imo. 5 stars for taste, formula, energy and pumps."
-Dillon
7- Inhuman Pre-Workout by AfterDark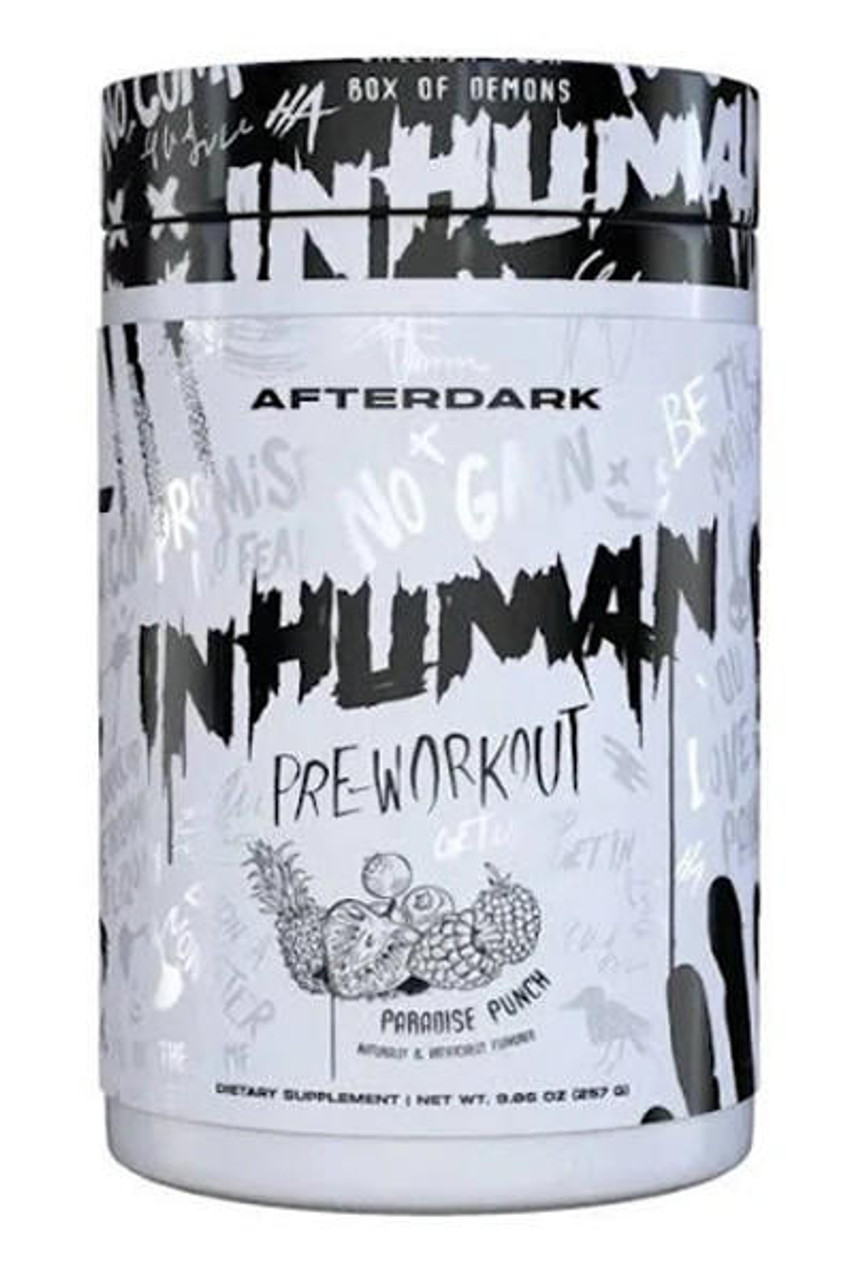 Inhuman Pre-Workout by AfterDark is an energizing pre-workout designed for stimulant enthusiasts, packed with all the stimulants you know and love. It contains two amino acids and three sources of caffeine that boost your performance and elevate your mode and focus.
Its key ingredients include:
Vitamin B3 (Niacin): It is an essential B vitamin that is vital in energy production and converts protein, carbohydrates, and fats into unstable energy sources. It promotes vasodilation, allowing more nutrients and oxygen to reach muscle cells during workouts. This improved blood flow can result in better workout performance and muscle recovery.
Vitamin B6 (Pyridoxine): This ingredient is vital for the healthy working of the nervous system and helps in neurotransmitter production. This way, it improves focus, mood, and cognitive function during training. Moreover, it is also involved in amino acid metabolism, promoting muscle growth and repair.
Caffeine Anhydrous: It is a widely known stimulant that is popular for its ability to increase alertness, mental focus, and concentration. It blocks adenosine receptors in the brain and thus reduces muscle fatigue and promotes wakefulness.
DiCaffeine Malate: It is a unique blend of caffeine and malic acid that provides a smoother and prolonged energy boost compared to caffeine alone.
Its key benefits include:
It improves energy and endurance for longer and more intense exercise.
It boosts mental focus and concentration.
It increases lean muscle mass and muscle strength.
It enhances blood flow and nutrient delivery to muscles.
It helps improve muscle recovery and reduce muscle fatigue.
8- Pump Addict Ultra Hardcore by Muscle Addiction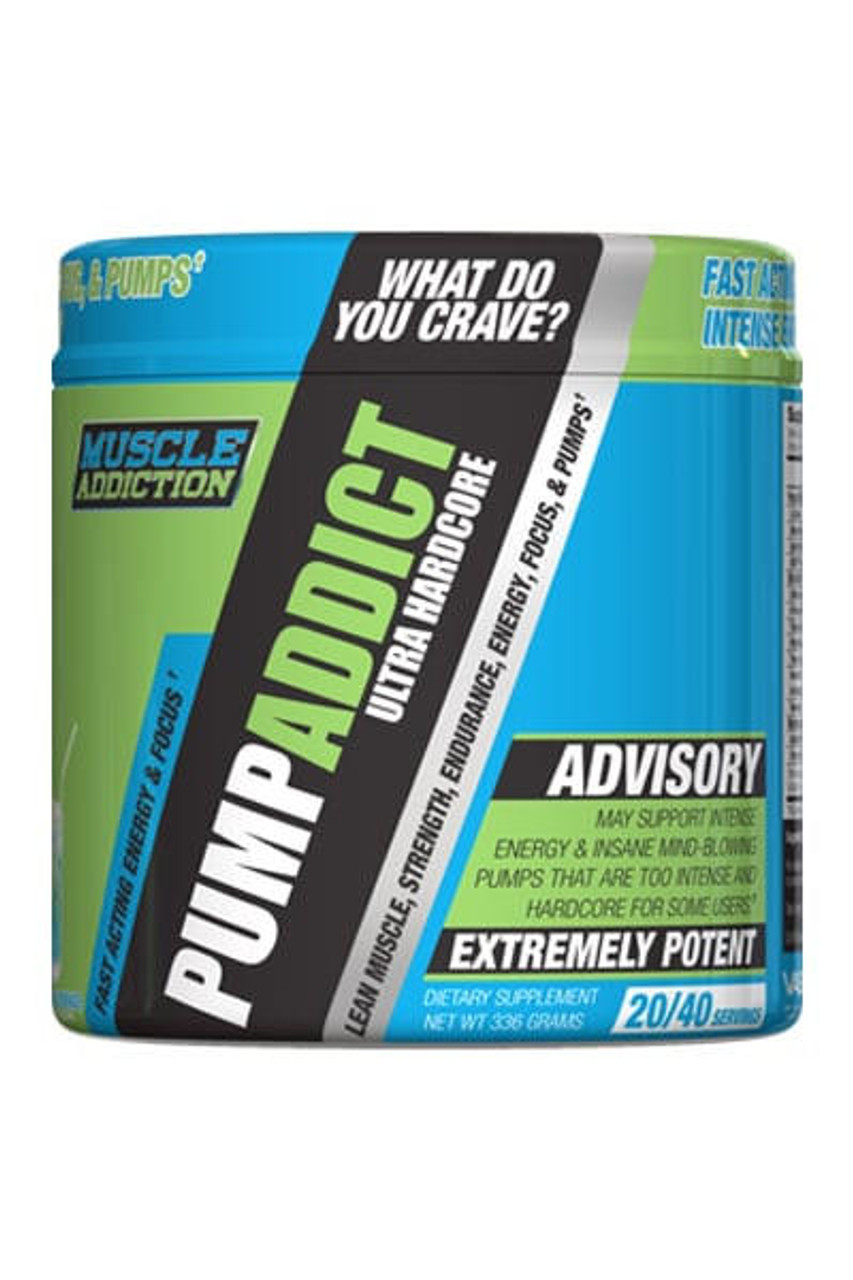 Pump Addict Ultra Hardcore by Muscle Addiction is designed for hardcore fitness enthusiasts addicted to pumping. This new pre-workout gives the energy, focus, pump, and improved performance required to elevate your workouts to elite levels.
Its key ingredients include:
L-Citrulline: It increases both aerobic and non-aerobic energy as well as improves muscular energy, strength, and power. It also increases nitric oxide production and helps reduce muscle fatigue and soreness after an intense workout.
Betaine Anhydrous: It is an anabolic muscle builder that is clinically proven to enhance strength, power, and endurance and reduce muscle soreness.
Agmatine Sulfate: It is derived from Arginine, which gained popularity in the supplement industry for its ability to stimulate growth hormone release and increase Nitric Oxide production.
VASO6™: It is one the most popular ingredients found in many pre-workouts and is used to improve vascularity, muscle pumps, and overall endurance.
Its key benefits include:
It improves nitric oxide levels.
It provides mind-blowing intense muscle pumps.
It increases energy, lean muscle, and strength.
It enhances muscle endurance and athletic performance.
It speeds up recovery and reduces muscle fatigue.
Frequently Asked Questions (FAQs) About Pre-workout for Cardio
Q: Is pre-workout good for cardio?
A: Yes! Pre-workout supplements can give your cardio workout a boost, helping to improve endurance and provide the mental alertness needed for extended exercises. Whether your aim is weight loss or increased vascularity, pre-workout supplements can effectively enhance your cardio session.
Q: How long before cardio should you take pre-workout?
A: The answer lies in the name itself – take it before a workout. However, different pre-workouts recommend different timing suggestions, ranging from 30 minutes to 60 minutes before your workout.
Q: How can I maximize the benefits of pre-workout during cardio?
A: To make the most of your pre-workout supplement during cardio exercises, follow these tips: time your intake per product instructions, stay hydrated before and during your workout, consume a balanced meal or snack before exercising, and monitor your progress to track improvements in your fitness goals.
Conclusion
In conclusion, pre-workout supplements can significantly optimize your cardio workouts by providing an energy boost, increasing endurance, and improving mental focus and alertness. By understanding the role of pre-workout supplements in cardio, selecting the right product for your needs, and implementing best practices for their usage, you can unlock your full potential and revolutionize your workouts.
Individual responses to pre-workout supplements may differ. It is strongly advised to consult with healthcare professionals, especially if you have any pre-existing health conditions or concerns. They can provide personalized advice and ensure that the chosen pre-workout aligns with your specific needs and goals.
Written and Sponsored by Leonard Shemtob
Leonard Shemtob is President of Strong Supplements. Leonard has been in the supplement space for over 20 years, specializing in fitness supplements and nutrition. Leonard has written over 100 articles about supplements and has studied nutrition, supplementation and bodybuilding. Leonard enjoys weight training, playing basketball and yoga, and also enjoys hiking. In his free time he studies and works on improving himself. His personal blog is www.leonardshemtob.com
Sources:
https://us.myprotein.com/thezone/supplements/take-...
https://www.performancelab.com/blogs/pre/should-yo...
https://fitbod.me/blog/pre-workout-for-fasted-card...