Posted by Leonard Shemtob on Jul 25, 2023
The Complete Guide to Bio-Gro Protein Synthesis Amplifier
Welcome to The Complete Guide to Bio-Gro Protein Synthesis Amplifier. In the world of fitness, bodybuilding, and performance enhancement, athletes and enthusiasts are constantly seeking innovative ways to unlock their true potential.
Among the myriad of supplements available, Bio-Gro by iSatori has emerged as a cutting-edge protein synthesis amplifier, aiming to take growth and recovery to new heights.
In this article, we will explain everything you need to know about Bio-Gro. We'll explore how it works, its benefits, and how it can make a real difference in your fitness journey.
Whether you are a seasoned athlete or just beginning your journey, this guide will show you how Bio-Gro can help you reach your peak performance. We will provide you with all the information you need to make an informed decision about whether or not this supplement is right for you.
---
Short Summary
Maximize Your Gains Today! Discover Bio-Gro by iSatori, the ultimate protein synthesis amplifier for faster muscle growth and recovery.
Take Your Performance to New Heights! Unleash the power of Bio-Gro and elevate your fitness journey like never before.
Grab BIO-GRO Now! Don't miss this chance to kickstart your muscle-building journey with this powerful supplement.
Unleash Your Potential! Explore our collection of Natural Anabolics, perfectly tailored to fuel your unique fitness goals.
---
What is Bio-Gro Protein Synthesis Amplifier by iSatori?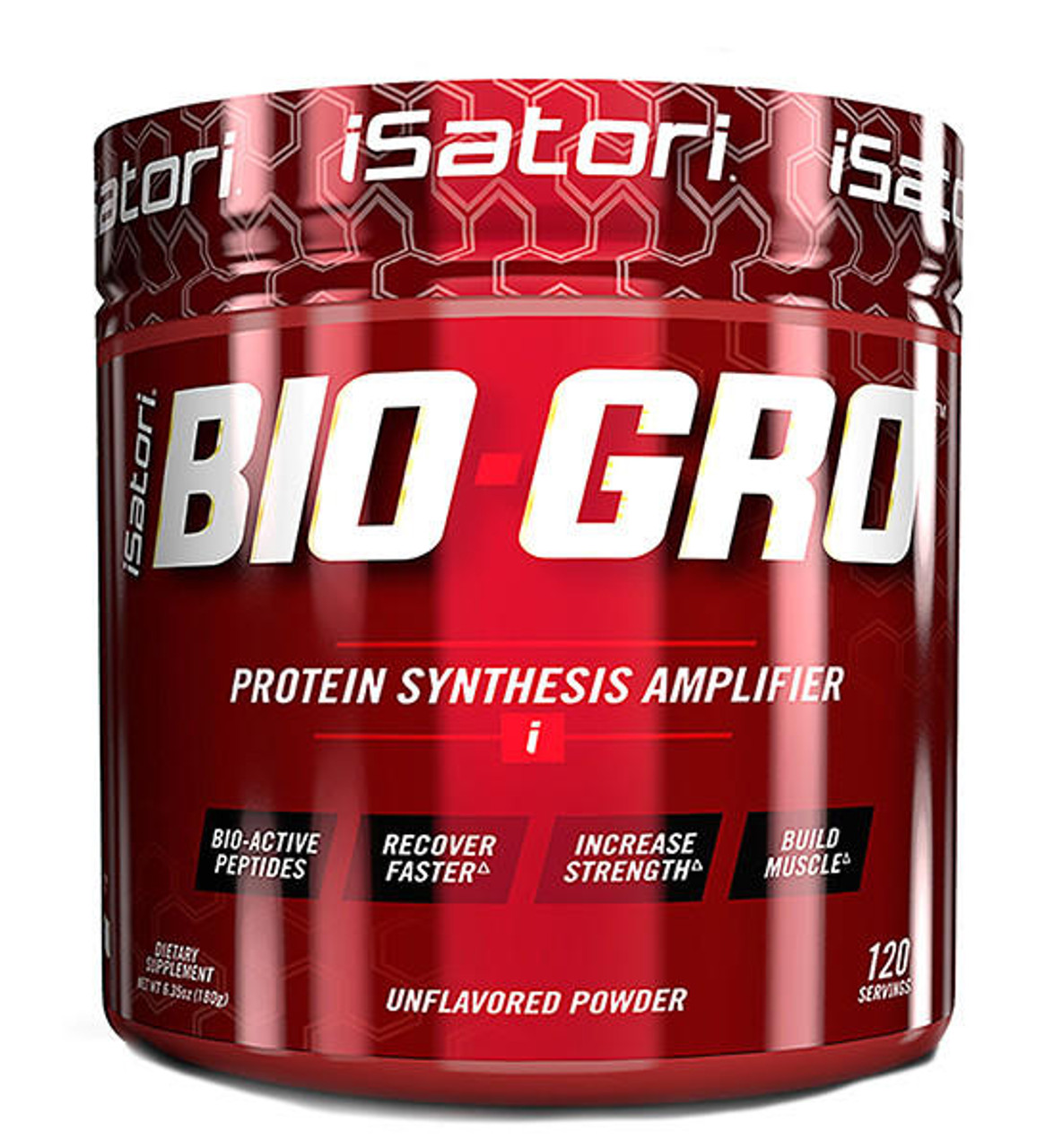 Bio-Gro Protein Synthesis Amplifier by iSatori is a groundbreaking fitness supplement that utilizes BIO-PRO Bio-Active Peptides (BAPs) extracted from top-quality bovine colostrum. These peptides increase muscle protein synthesis, forcing your body to make protein faster. This results in an increase in lean muscle growth and faster recovery after an intense workout.
Think of it as "fertilizer for your muscles." When taken daily, the ultra-concentrated BIO-PRO Bio-Active Peptides act as the foundation of any serious trainer's program, helping develop lean body mass and boosting overall strength.
Unlike many protein powders available in the market, this advanced supplement is highly concentrated. Just one small scoop of it contains the equivalent bio-actives found in 25 grams of whey protein concentrate.
---
Key Ingredients in Bio-Gro by iSatori
Bio-Gro contains Bio-Active Peptides, which are cleaved protein fragments extracted from the micro-concentrated colostrum. These protein fragments are then micro-concentrated to create a low molecular weight, resulting in a bioavailable powder.
This specialized formulation yields a concentrated extract rich in various bioactive components, including Proline-Rich Peptides, Growth Factors (IgF, TGF beta-2, EGF, PDGF), Immunoglobulins, Lactoferrin, and Fibrolast-GF.
It also comprises other ingredients like Medium Chain Triglycerides and Sunflower Lecithin.
---
Key Benefits of Bio-Gro by iSatori
Increased Protein Synthesis: Bio-Gro contains sugar-free, gluten-free, and stimulant-free 1.5 grams of micro-concentrated Bio-Active peptides, which help boost protein synthesis. It helps increase the body's ability to synthesize protein, which increases the production of protein in your body.
Faster Muscle Recovery: Bio-Gro leads to a noticeable reduction in recovery time after intense training or exercise. It also helps you develop more lean body mass after your workout, leading to substantial improvement.
[Related] Rebirth PCT: The Ultimate Supplement for Post-Cycle Recovery
Build Muscle: This exceptional product supports protein synthesis, promoting efficient muscle growth to help you achieve noticeable gains. It helps you drive lean muscle growth and improve muscle strength.
[Related] What Are The Best Muscle Building Supplements?
Reduce Muscle Soreness: Bio-Gro helps reduce muscle soreness, allowing you to recover faster and push harder during your workouts.
Highly Concentrated: This supplement is exceptionally concentrated, delivering a potent dose of Micro-Concentrated Bio-Pro Bio-Active Peptides in every serving. With its high concentration of bioactive components, BIO-GRO sets itself apart from other supplements, ensuring that you get the most out of each scoop.
---
Customer Reviews about Bio-Gro by iSatori
super convenient
"Awesome product, I use mainly when on the road and can't use my regular whey protein. Mixes well with Oats and yogurt also."
-Emmanuel
Meets the claims and more
"Definitely helps with recovery and strength. Along with that I feel tht my muscles feel fuller without actually increasing my carbs and my pumps in the gym are definitely improved (despite I satori never mentioning better pumps or feeling fuller like when you go on creatine). Well worth the money"
-Daniel
Satisfied Thoroughly
"Stuff works awesome!"
-Jonathan P.
Bio grow
"Works very well great product Will continue to purchase results are very good even for an older person"
-John
---
Frequently Asked Questions (FAQs) about Bio-Gro by iSatori
Q: How does Bio-Gro work?
A: Bio-Gro is a technically advanced supplement that uses a low molecular and micro-concentrated form of Bio-Active Peptides. These peptides signal the body to increase protein synthesis. As a result, individuals experience accelerated development of lean muscle mass.
Moreover, the increased protein synthesis also helps in faster post-workout recovery, enabling you to bounce back swiftly after intense training sessions.
Q: How should I take BIO-GRO as a dietary supplement?
A: Adults should mix 1-2 servings of BIO-GRO twice daily in 3-4 oz of liquid, such as amino acid, pre-workout drink, or protein shake. Alternatively, it can be mixed in soft foods like yogurt or oatmeal.
Q: When is the best time to take BIO-GRO for optimal results?
A: Follow the daily usage chart provided for optimal results. It is recommended to take one serving before, during, or after your workout.
Q: What is the recommended dosage based on my weight?
A: The following is the recommended dosage based on weight:
For individuals weighing less than 125 lbs: Take 1 scoop of BIO-GRO in the morning and 1 scoop in the evening.
For those with a weight range between 125-200 lbs: The recommended dosage is 2 scoops in the morning and 2 in the evening.
If your weight is greater than 200 lbs: It is advisable to take 3 scoops of BIO-GRO in the morning and 3 scoops in the evening.
Please remember that these dosages are general guidelines, and individual needs may vary. It's recommended to consult with a healthcare expert for personalized dosing instructions to optimize your experience with BIO-GRO.
Q: Is Bio-Gro suitable for women?
A: Absolutely! Many athletic women already enjoy the benefits of Bio-Gro. This supplement is an ideal choice for calorie or carb-conscious women, as it contains almost zero calories, zero fat, and zero sugars.
With Bio-Gro, women can experience the bioactive advantages of protein, which helps develop lean body mass.
Unlike large-sized protein shakes that can leave your stomach feeling full of gas and bloated, Bio-Gro requires only one tiny scoop (1.5 grams). Moreover, Bio-Gro is derived from natural sources and is safe for anyone to use.
Q: Who should not use Bio-Gro?
A: Do not use this product if you are pregnant, nursing, or contemplating pregnancy. Also, Bio-Gro is not intended for individuals under 18 unless instructed by a doctor.
Furthermore, if you have any underlying health conditions or are taking medications, it's crucial to consult with a physician or healthcare provider before incorporating Bio-Gro or any dietary supplement into your routine.
---
Conclusion
In conclusion, Bio-Gro Protein Synthesis Amplifier by iSatori is a cutting-edge supplement using BIO-PRO Bio-Active Peptides to stimulate muscle growth and recovery. Its key benefits include increased protein synthesis, faster muscle recovery, muscle building, and reduced muscle soreness, all contributing to significant gains in strength and performance.
Whether you're an athlete or a beginner, BIO-GRO offers the potential to maximize gains and elevate your performance. Don't miss the chance to maximize your gains and unleash your potential with Bio-Gro—take your fitness journey to the next level today!
---
Written and Sponsored by Leonard Shemtob
Leonard Shemtob is President of Strong Supplements. Leonard has been in the supplement space for over 20 years, specializing in fitness supplements and nutrition. Leonard has written over 100 articles about supplements and has studied nutrition, supplementation and bodybuilding. Leonard's articles have been published in many top publications around the web. Leonard enjoys weight training, playing basketball and yoga, and also enjoys hiking. In his free time he studies and works on improving himself. His personal blog is www.leonardshemtob.com
---
Sources:
https://www.strongsupplementshop.com/bio-gro-by-isatori
Effects of bovine colostrum supplementation on serum IGF-I, IgG, hormone, and saliva IgA during training" by Buckley JD et al., J Appl Physiol, 2003
Effects of bovine colostrum supplementation on immune variables in highly trained cyclists" by Shing CM et al., J Appl Physiol, 2007