Posted by Leonard Shemtob on Oct 16, 2023
PerfectAmino Review: Is It Right for You?
Are you on a quest for the perfect fitness supplement to support your health and wellness journey? In the world of health and fitness, it's crucial to find products that truly align with your goals. That's where PerfectAmino comes into the picture.
In this detailed review, we've gathered real user experiences, conducted in-depth research, and analyzed the features and potential benefits of PerfectAmino. By the end of this article, you'll be better equipped to determine whether PerfectAmino aligns with your unique health and fitness goals.
Whether you're an avid fitness enthusiast or someone simply seeking to improve your overall well-being, this article is here to help you decide if PerfectAmino is the right choice for you. So, let's embark on this journey to discover if PerfectAmino is the perfect fit for you.
[Related Articles]
Power Up with PerfectAmino by BodyHealth: 8 Essential Amino Acids for Optimal Health
Amino Acids For Pre Workout: Maximize Your Results!
---
Short Summary
Product Features and Benefits
Explore the key features of PerfectAmino, such as its ingredients and unique qualities.
Learn about the potential benefits the supplement can offer, from muscle building to energy enhancement.
User Insights
Discover the real-world impact of PerfectAmino through authentic user reviews.
Gain valuable insights into how the supplement affects various health and fitness goals.
Pros and Cons
Weigh the advantages and potential drawbacks of PerfectAmino to help you make an informed decision.
Decision-Making
Equip yourself to make an informed choice about PerfectAmino and whether it aligns with your health and fitness objectives.
Ready to Start Your Fitness Journey? Try PerfectAmino now and kickstart your path to a healthier you.
Interested in exploring a wider range of amino acid supplements? Discover our comprehensive collection of amino acid supplements tailored to your unique health and fitness goals.
---
What is PerfectAmino by BodyHealth?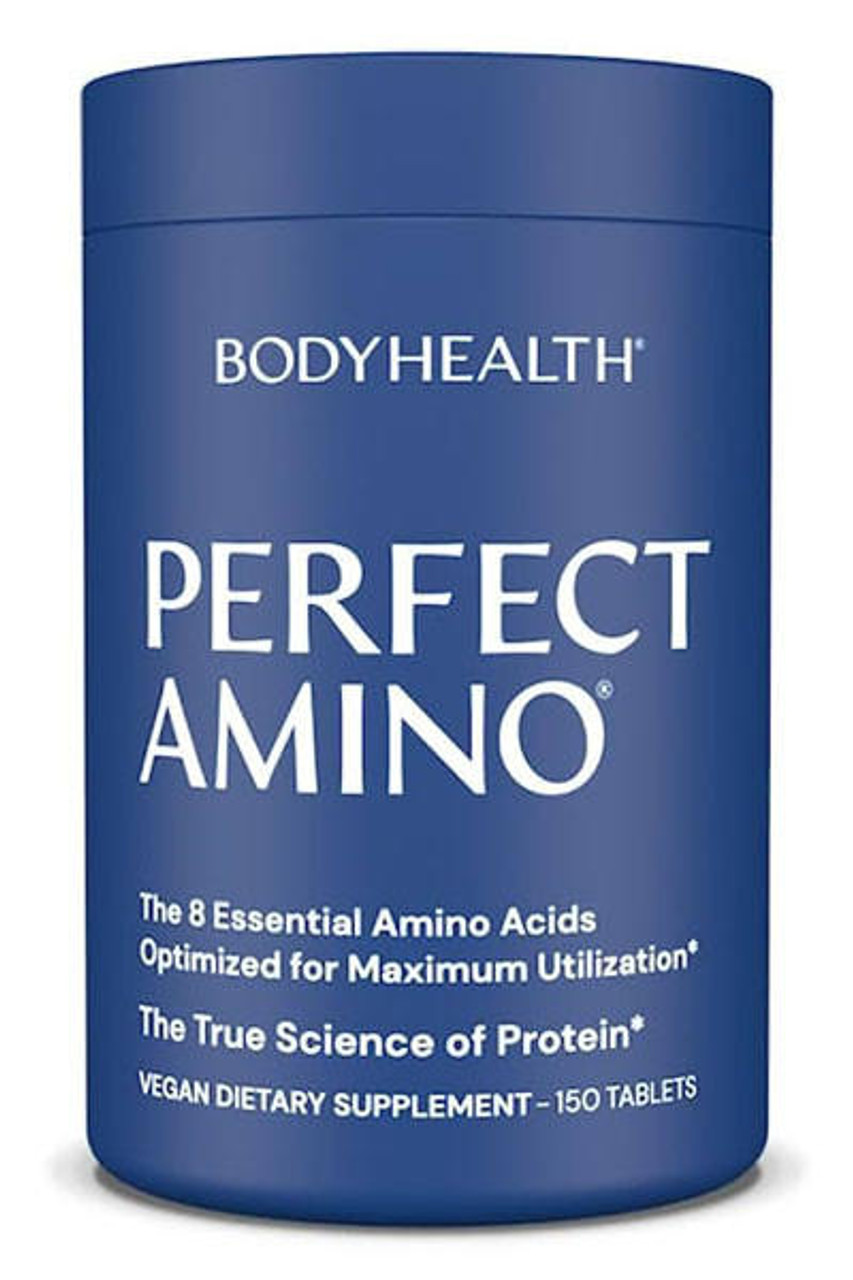 PerfectAmino is a dietary supplement from BodyHealth designed to offer almost 100% bioavailability, enhancing your overall health and well-being. Its exclusive blend ensures that 99% of its amino acids are efficiently utilized by the body, facilitating protein synthesis, muscle growth, and post-workout recovery.
Over time, muscle degeneration becomes an unavoidable aspect of life, particularly among the elderly or those with limited physical activity.
As muscle mass diminishes, individuals often experience fatigue, impaired balance, overall weariness, and a progressive decline in physical well-being. In response to this challenge, PerfectAmino emerges as a solution to rejuvenate the body and muscles to their optimal state.
This amino acid supplement provides a unique set of eight essential amino acids that support the body's musculoskeletal, enzymatic, and hormonal processes, all without any adverse side effects. Moreover, if taken 20-30 minutes before a workout, PerfectAmino is rapidly absorbed, priming your body to repair micro-tears in muscles as they occur, leading to improved endurance and faster recovery.
While other protein sources such as BCAAs, whey protein, pea, soy proteins, and whole foods like meat, fish, eggs, and poultry are only partially used by the body, PerfectAmino stands out with an exceptional 99% utilization rate.
If your goal is to achieve greater strength, improved performance, and faster recovery without the burden of toxins and extra calories while avoiding issues like blood sugar spikes, bloating, and post-digestive fatigue often associated with poorly processed proteins, then PerfectAmino is a supplement you should consider.
How does PerfectAmino work?
PerfectAmino works by providing the body with the essential amino acids it requires to build muscle tissue. Essential amino acids are also necessary for the production of hormones, enzymes, and other important molecules in the body.
When you take PerfectAmino, your body can quickly absorb and use the essential amino acids to support your fitness goals, improve your overall health, and reduce the signs of aging.
---
Ingredients Analysis of PerfectAmino
1- L-Leucine
L-Leucine is a key player in protein synthesis and is essential for generating ATP and maintaining energy levels. This essential amino acid also helps maintain a balanced nitrogen level, promoting muscle growth while preventing muscle breakdown. Additionally, it boosts stability, endurance, and immune system defense by activating T-cells.
2- L-Valine
L-Valine is crucial for liver health and nutrient absorption. It combats muscle deterioration and promotes muscle development. Additionally, it alleviates muscle soreness and maintains nitrogen balance, contributing to muscle metabolism and a stronger immune system. L-Valine is also beneficial in addressing malnutrition.
3- L-Isoleucine
L-Isoleucine promotes healthy blood sugar levels, enhances vitality, and increases stamina. It aids in rapid recovery from physical stress, supporting muscle growth and maintaining lean body mass.
Perfect Amino helps with weight management and reduces fatigue while also improving the function of crucial hormones and enzymes for overall cognitive and physical well-being.
4- L-Lysine HCI
L-Lysine HCI boosts calcium absorption and collagen formation, aiding in wound healing. It also helps alleviate stress and anxiety while promoting skin health.
5- L-Phenylalanine
L-Phenylalanine promotes brain health and helps with conditions like distress, ADHD, and Parkinson's disease. Moreover, it also provides relief from chronic pain and supports bone health, particularly in cases of osteoarthritis and rheumatoid arthritis.
6- L-Threonine
L-Threonine is a crucial building block for protein synthesis, aiding in conditions like multiple sclerosis and nervous system disorders such as spinal spasticity. Perfect Amino boosts immune function and facilitates the growth of connective tissues by providing essential antibodies.
7- L-Methionine
L-Methionine is crucial for controlling liver injury, particularly in cases of Tylenol poisoning. It aids in damage recovery and improves cell function. It supplies the essential compounds, including sulfur, necessary for optimal metabolism and growth.
8- L-Tryptophan
L-Tryptophan enhances brain signaling chemicals, supports protein synthesis, and transforms into serotonin in the brain, leading to improved mood and better sleep quality.
---
The Benefits of Perfect Amino
This unique supplement is known for enhancing protein and collagen production for lean muscle and healthy skin.
It boosts vitality levels and aids in protein synthesis.
It supports liver health and enhances nutrient absorption.
It enhances cognitive processes and relieves stress.
It improves bone health and skeletal support and accelerates healing.
Balances hormones, reduces fatigue, and promotes muscle growth.
It supports muscle development and tissue strength during workouts.
It regulates blood sugar levels and extends endurance.
It alleviates stress response and activates collagen for injury recovery.
It stimulates serotonin release, supporting a positive mood and better sleep.
It promotes healthy blood vessels, reduces oxidative damage, and enhances natural recovery processes in the body.
A superb protein source for weight loss with minimal calorie content.
---
Pros and Cons of PerfectAmino
Pros
It has a clean formulation with literally no side effects
No unhealthy ingredients
Vegan, non-GMO product
Best for muscle recovery
It may support overall athletic performance
Cons
It doesn't contain all essential amino acids, like L-histidine
It may not be available in a walk-in store
It doesn't appear clinically tested
Strange and unscientific health claims
---
PerfectAmino Reviews: What the Customers Are Saying?
Customer Reviews from Amazon and Reddit
Perfect Amino's coated tablets have received over 700 reviews on Amazon, boasting an average rating of 4.4 out of 5 stars. While some individuals may not particularly favor the taste and scent of the product, and a few find the tablet size a bit inconvenient, reviews primarily focusing on the results are overwhelmingly positive.
Many users say they feel stronger and more alert after taking this supplement for a few weeks. Many have mentioned it increases my energy levels and helps me with my recovery. Overall, it is considered a hit with such impressive customer reviews.
Over on Reddit, people are also saying good things about Perfect Amino. In fitness and "optimization" forums, many share that they've seen better recovery after workouts since they started using this supplement. Some have even noticed improvements in toning and losing weight.
---
Reviews of Customers on Our Website
Perfect for me
"I started taking perfect aminos right after going back to the gym after taking some time off. I noticed that my recovery was much quicker, my joints were not as achey as they usually were and overall I am less sore. The dose is super easy on my stomach, whether I take it with food or on an empty stomach. No burps, gas or bloating. Its now a staple in my supp regiment. Thanks"
-Victor C.
Easy and effective
"I take these throughout the day especially on workout days. They never give me the burps and help me to be less sore. After reading all the info on this stuff it looks really good and I am glad I got it."
-LDACHAMP
Love this products
"I've been taking it for a long time now and have found it to be super useful for both my recovery and my ability to lift and gain more strength. Definitely suggest to anyone who wants a vegan healthy amino protein"
-Daniel S.
---
Frequently Asked Questions (FAQs)
Q: What is special about PerfectAmino?
A: PerfectAmino is unique because it offers a 99% utilization rate of its amino acids, ensuring that almost all of them are effectively used by the body.
Q: What are the potential benefits of PerfectAmino?
A: PerfectAmino offers various benefits, including muscle support, energy enhancement, immune system strengthening, bone health, stress relief, and more.
Q: Is PerfectAmino suitable for weight loss?
A: Yes, PerfectAmino is an excellent protein source for weight loss due to its minimal calorie content and ability to support muscle growth while aiding recovery.
Q: Does PerfectAmino have any scientific evidence to support its claims?
A: The supplement's claims may not be clinically tested or scientifically validated, so it's important to consider user experiences and consult with a healthcare professional.
Q: Is PerfectAmino suitable for everyone?
A: It's generally safe for most individuals. However, it's advisable to consult with a healthcare expert if you have specific health concerns or conditions.
Q: How Should I Take PerfectAminos for Optimal Results?
A: For best results with PerfectAminos, the recommended servings are as follows based on your weight:
For individuals weighing up to 110 lbs: Take 1 - 2 servings either in the morning or before bedtime.
If you weigh between 110 - 140 lbs, Take 2 servings in the morning or before bedtime.
For those in the 140 - 170 lbs range: Consume at least 2 servings in the morning and 1 serving before bed.
If your weight is 170 lbs or more, Take at least 2 servings in the morning and 1 - 2 servings before bed.
Remember to adhere to the recommended serving guidelines to maximize the benefits of PerfectAminos and consider consulting with a healthcare expert for personalized advice.
Q: Are There Any Potential Side Effects With Perfect Amino?
A: In general, Perfect Amino is well-tolerated when consumed according to the recommended serving size. However, like with most amino acid supplements, some individuals may experience mild digestive issues or occasional water retention. It's essential to follow the serving instructions and consult a healthcare specialist if you have concerns about any side effects.
---
Final Thoughts
In conclusion, among essential amino acid supplements, Perfect Amino is a solid choice. PerfectAmino is a dietary supplement that offers a unique blend of essential amino acids designed to support muscle growth, recovery, and overall well-being. It's a promising option for those seeking to optimize their health and fitness goals.
The real user reviews provide encouraging feedback, underlining the positive impact that PerfectAmino can have on various aspects of health and fitness. Whether you're looking to increase strength, boost energy, or enhance recovery, this supplement could be your answer.
As you continue your health and fitness journey, remember that individual experiences may vary, and it's essential to consult with a healthcare expert if you have specific concerns. Your path to a healthier, more energetic you might just begin with PerfectAmino.
---
Written and Sponsored by Leonard Shemtob
Leonard Shemtob is President of Strong Supplements. Leonard has been in the supplement space for over 20 years, specializing in fitness supplements and nutrition. Leonard has written over 100 articles about supplements, appeared in multiple podcasts and has studied nutrition, supplementation and bodybuilding. Leonard's articles have been published in many top publications around the web. Leonard enjoys weight training, playing basketball and yoga, and also enjoys hiking. In his free time he studies and works on improving himself. His personal blog is www.leonardshemtob.com
---
Sources:
https://www.strongsupplementshop.com/perfectamino-by-bodyhealth
https://www.strongsupplementshop.com/blog/power-up-with-perfectamino-by-bodyhealth-8-essential-amino-acids-for-optimal-health/
https://bodyhealth.com/pages/perfectamino-customer-reviews
https://education.med.nyu.edu/mbm/aminoAcids/intro...
https://www.ncbi.nlm.nih.gov/books/NBK234922/